When it comes to making pizza, a wood-fired stove is generally considered to be the most authentic approach. I'm very much inclined to agree with it, too, now that I've been experimenting with wood-powered ovens for about six years. Although my culinary obsession developed back in my childhood years, I didn't really consider using this kind of stove in pizza making until my trip to Italy in 2014. The gastronomical experience I had there changed my idea of pizza.
While wood-fired stoves are quite popular with professional cooks as well as amateurs, they aren't the most obvious choice for camping. Yet, wood has a number of advantages when compared to conventional gas. Not only is it better for the environment and more space-conscious in that you don't need to carry any fuel when going someplace where waste wood is abundant; it also delivers unparalleled pizza with a deliciously crispy crust and toppings that aren't overcooked.
If you've been reading outdoor pizza oven reviews for ages and still don't know which model to choose, look no further! BioLite BaseCamp with a PizzaDome and a carry pack is the perfect choice for non-professional pizza lovers who like to spend their time out in the bush.
BioLite BaseCamp Stove Review
BaseCamp is a wood-powered stove system designed with a view for quick and easy al fresco pizza-making. Apart from pizza and various flatbreads, it's a powerful tool for cooking steak, burgers, and more.
What's in the box?

The full set consists of three items — the BioLite wood-burning stove proper, a three-piece PizzaDome system, and a carry case to transport efficiently. When I say the PizzaDome system is three-piece, I mean it consists of the dome itself plus a ceramic pizza stone and a triangular base used to hold it over the stove. Some BaseCamp reviews emphasize that the dome is a versatile part that can be used to concentrate heat around whatever you're cooking, in which case you don't need the other two components. The PizzaDome product is available as a standalone item as well. Please note that it's optional, so you can purchase the stove alone, too, but it's the dome add-on that makes it so good for pizza-making.
The pack includes accessories such as FlexLight and power storage. The former is BioLite's flexible USB-powered lantern that will come in handy when cooking in the dark. With a power of 1.25 Watt, the little device delivers 100 Lumen of light, which is more than adequate for the purpose. The latter accessory means you can convert the heat produced by burning wood into usable electricity. One of the benefits is using the energy to power a built-in fan, thus maintaining a more stable and intense fire. Whatever is left is directed to a USB output for connecting and charging small devices such as smartphones.
Finally, the item comes with a manual and a BioLite Firestarter that you can use to start a fire more easily. It's not a necessary part of the stove but rather a bonus.
Design and Features
The main part of the set, the stove, was clearly designed with portability in mind. It boasts a sleek, relatively lightweight (approximately 8kg) main structure, supported by thin but reasonably stable foldable legs for ease of transportation. The interior is covered in heat-resistant cast iron.
The 5-Watt power pack is attached to the side of the stove. Although in a plastic casing, it's meant to withstand considerable heat from the burning over. It also features an LED panel that will tell you the temperature inside and the amount of power generated. A 2200 mAh onboard battery is also included so that you don't depend on heat generation to use the fan. The FlexLight is mounted in the same place, protruding on its flexible arm to keep the cooking area well-lit at virtually any angle.
The burn chamber is located in the middle of the stove's central section and will easily accommodate small to medium branches up to 1.5 inches in diameter. What makes the side entry especially user-friendly is a fuel rack that can be used to prevent longer pieces of wood (up to 21") from falling out. A steel ashtray is attached underneath the entry to keep the surroundings clean while cooking.
Since the key idea of this BioLite pizza oven is to combine portability with the efficiency of combustion, it features a relatively large cooktop. A lever is included to close off the open fire that otherwise comes through a hole in the middle of the cooktop, thus offering a choice of two modes, boiling and grilling.
As for the pizza module, the dome features a built-in thermometer for extra control over the process. It also comes with a wide handle so that you can remove it easily after pre-heating. Besides, the stove itself has a bucket handle for carrying.
The carry pack was made to accommodate the basic stove as well as the pizza addon. It is cylinder-shaped with one main compartment for the equipment, complete with a zipper, plus a side pocket to carry wood and other accessories in. This additional pocket is fully open with no fasteners.
Specifications
Although made with camping in mind, the stove weighs 8.16 kg, making it somewhat too heavy as a backpacking solution. It fits easily in pretty much any car, though. It's made of stainless steel on the outside and lined with cast iron. Another material used is heat-resistant plastic – that's what the casings of the accessories and the handle are made of.
The cooktop is a round surface with a diameter of 33.66 cm, which produces 350.52 cm² of the cooking area. A flame spreader and a grill grate are included in the package.
The stove is fired by solid biomass fuel such as twigs and wood chunks. The estimated cooking time for a pizza is approximately 5 to 10 minutes using the dome. The heat-up and cool-down will take about 10 to 15 minutes.
The PizzaDome module, also made predominantly of steel, adds an additional 2.0 kg to the unit's weight. The dome is 37 x 37 x 14 cm, with a thermometer having a measuring range of 100 to 600 degrees. It features a cool-touch silicone handle on top. The pizza stone is made of heat-resistant ceramics approved by the FDA.
Finally, the carry pack is as light as 567 g. It's made of durable water-resistant canvas with nylon straps on a metal hook.
How to Use BaseCamp PizzaDome Bundle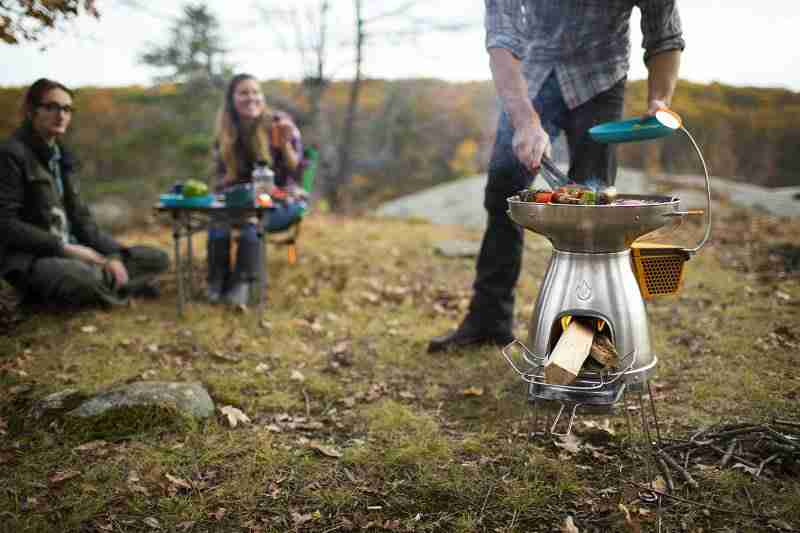 Even though this product comes with foldable legs for greater portability, the BioLite camp stove instructions indicate that the model should only be used with the legs extended. This is because the bottom can get really hot during operation, which might be damaging to the ground. Therefore, your first step should be to extend the legs and place the stove on an even surface.
The flame spreader is a separate item, so you'll need to put it on the cooktop, the rings facing down. The next thing to do is to insert the grill-to-boil lever through a dedicated slot in the side of the stove, but remember to leave it in the open (boiling) mode when starting a fire. These are all simple operations that don't require much expertise, and I've found the instructions in the manual very helpful and clear. Finally, top the structure with the grill grate. BioLite emphasizes that both the fuel rack and the ashtray must be installed for safe operation, also specifying that they should be perpendicular to the fuel entry.
Now that the stove is ready, you can start a fire. The manufacturer advises strongly against greenwood, which is a sound recommendation since such fuel normally produces way more smoke than needed. Collect some dry twigs and small branches, arranging them so that air can flow freely in the fuel chamber. As with most stoves, larger wood might be hard to set on fire and will probably generate a ridiculous amount of smoke. Use the fire starters included in the package or make your own to actually make a fire, but avoid liquid formulations. A longish burning object is more than enough for our purpose. The fan will start automatically when there's enough heat to boost your fire.
All you need to do when your kindling's burning is gradually add larger pieces (be careful not to overdo it!). Overstuffing the stove's mouth is dangerous and inefficient. Luckily, there's a hazard LED on the smart panel to tell when you've overheated the oven
Remember to pre-heat the pizza stone for some minutes to avoid sticking. Just let it sit on the triangular base that comes with the PizzaDome system until the built-in thermometer shows the right temperature, and don't forget to check on it regularly afterwards by lifting the dome as you don't want to burn the crust.
It's not uncommon for wood-fired pizza oven reviews to mention burns due to inadequate precautions, and BaseCamp is no exception. Be sure to use tongs whenever you feed wood to the stove. They do a great job of keeping your bangs and eyebrows safe! It's also advisable to do up your hair if you're going to bend down to the stove's mouth rather than kneeling or squatting in front of the device.
The heat-to-electricity conversion is one special feature that's highlighted in every BioLite BaseCamp review, and it's great, offering you up to 20 hours of audio or 5 talking hours if you have an average smartphone. However, precautions have to be taken to protect the sensitive cables and connectors against heat, so think of a safe place to put your gadgets.
This camping stove only needs basic maintenance like cleaning the grill grid and the flame spreader with a wire brush after the oven has cooled down completely. Before doing so, disassemble the equipment in the reverse order and dispose of the coals and ashes (take care so that these don't re-ignite!). Make sure you dry the details thoroughly, otherwise they might rust. A damp cloth should be enough to clean the exterior, including the power unit.
No products found.
---
PROS:
Large cooktop for big companies;
In-built fan to keep the fire stable;
Portable design with foldable legs and a bucket handle;
You can switch between open fire boiling or grilling using a simple lever;
Converts heat to electricity that can be used to charge small devices;
The pizza dome features a built-in-thermometer;
Makes amazing pizza.
CONS:
Somewhat pricey;
I wish the legs were just a bit more stable.
---
My Verdict
The BioLite wood-burning camp stove bundle is an extremely well-made and versatile tool for car campers and picnickers. The stove itself is made of durable stainless steel and features a unique design that allows it to fold flat for easy transport and storage.
With the specialized pizza add-on, I've been able to enjoy beautiful freshly cooked pizza with a crusty base and perfectly melted cheese on top while also listening to music in the woods. The stone that comes with the PizzaDome system is good enough to prevent sticking and ensure even distribution of heat, and you can control the temperature because the dome has a thermometer built into it. I've found this feature especially helpful as it's no way you can normally tell what temperature a wood-fired stove is.
Good as it is at making pizza, the oven is not limited to just one dish. I've even come across a BioLite review that featured delicious-looking cookies! This is a great plus but, of course, out of our scope for now.
The stove is easy to use and has a bunch of indicators that might spare you some mistakes if you're a beginner. It doesn't require any time-consuming maintenance and takes up little space due to features such as folding legs and the carry bag (which is also water-resistant).
Simple yet efficient, BioLite Basecamp PizzaDome Bundle has all you need to make delicious pizza outdoors and more. Although not the most inexpensive option, it's definitely worth its money.
Have you already tried cooking pizza in a camp? If yes, what kind of stove did you use, gas or wood-fired?