Pizza can include diverse ingredients, but still, the dough plays a major role while preparing this dish. That's why it should have perfect thickness. With the best pizza dough roller, it's not that challenging to reach the ideal shape. Of course, you can work with the dough with your hands, but a quality roller makes it smoother with a little effort. Also, you can apply the roller while making pies or cookies too.
One of the best pizza dough rollers on the market is the Norpro wood device, which has two roller pins of diverse sizes. Also, this tool is lightweight and convenient to use, and it takes a little effort to clean it. The construction will serve you for a long time. There are also many various quality pizza dough rollers on the market, and you will find more about them below.
Top 10 Best Pizza Dough Rollers
The tastes for designs and materials of the utensils for working with dough differ for every person. Here I have collected the top instruments so that you can choose which one is the best for you.
back to menu ↑
1. Norpro – Best Pizza Crust Roller
There are a lot of kitchen appliances on the Norpro product list, and one of them is this wood pizza roller. The manufacturer is highly attentive to the details, making this pizza crust roller one of the best on the market thanks to its quality design and material. You can work not only with the pizza dough. The device has large and small rollers – their sizes are 4.125 and 2.5 inches accordingly.
The bigger roller creates a perfect crust. It works really smoothly because of the wood type that doesn't stick to the dough. The smaller one can help you fill the pizza in the pan. Also, it is effective at working with cookies or pie dough. You may also crush nuts, bread crumbs, and crackers. The roller has a convenient handle, so you can roll the dough without a lot of effort. Its dimensions are 7.25 x 4.5 x 1.25 inches. The metal frame makes the roller more durable.
This roller has all the features to make a perfect dough, and the price is really pocket-friendly.

---
---
back to menu ↑
2. Aphse – Convenient Pizza Dough Roller
Some people prefer metal rollers while working with the pizza dough. If you are one of them, this Aphse dough pizza roller is the right choice for you. It's a great alternative for a dough sheeter machine but more light and compact. It is made of stainless steel. Such material doesn't get rusty, which is significant if we talk about kitchen instruments. You can easily clean this roller with a damp cloth.
The bigger roller is 4.21 inches wide, and the smaller one is 2.44 inches wide. Thanks to such a design, it can be used for various applications. For example, for making cookies, pizza, pasta, egg tarts, fondant, and anything you can come up with. The wheel design is smooth and makes a uniform thickness. Also, it has a smooth and convenient handle for easier usage with less strength.
As the roller is made of stainless steel, its price is somewhat higher than wood instruments have.

---
---
back to menu ↑
3. Mrs. Anderson's Baking – Compact Pizza Dough Roller
The material of the pizza roller has a direct impact on its quality. The one by Mrs. Anderson's Baking is made of wood, which can be cleaned with a damp cloth. It rolls the dough smoothly and doesn't make holes in it. Besides, it's compact and can be easily stored. There are large and small rollers – the first one is 4 inches wide, and the second roller is 2.5 inches. Together, they roll in the dough perfectly. The smaller version smoothes the edges and sides and is convenient to use in the pan.
The roller's measures are 7 x 4.75 x 2 inches, which is a little smaller than similar models on the market. You can prepare diverse dough types with it. The roller can help you create the pie and pizza crust, cookies, or even homemade pasta. The device is made of hardwood, so it can't break or get damaged. This roller is small, so it becomes more affordable. It won't cost you a lot, which is good considering the high quality.

---
---
back to menu ↑
4. Whaline – Natural Beech Roller for Dough
The dough can be of different sizes as people prefer diverse roller designs. That's why Whaline offers a kit that includes T-maple and H-maple rollers. The first one is the larger roller with a 4.7-inches size. It is excellent for making an elongated shape for pies or pizza. The H-shaped option can be used for making the round dough, and the smaller roller is perfect for smoothing the edges of the dough. Their sizes are 4.5 and 2.8 inches. Both instruments are lightweight and smooth, so you don't need to apply a lot of strength while using them.
The frames of the rollers are made of stainless steel. This material is solid and doesn't wear out through time. Both rollers are made of natural beech; it doesn't have any smell, wax, or oil paint. Therefore, they are safe for making food. But you should be careful with the rollers usage because the boiling water can damage the wood and make it less smooth.
As you will get two rollers, the price becomes higher than of other models on the list. So, it is twice more than for a single roller in the kit.

---
---
back to menu ↑
5. Patelai – Pampered Chef Pastry Roller
For the ideal pizza dough, Patelai offers two different rollers. The first one is made of wood. It is safe and non-toxic, free of odd smells and other harmful factors. The roller has two pins. The smaller one is for making the smooth edges of the dough, and it's about 2.4 inches. The larger roller measures 4.6 inches. Use them both for rolling up the pizza dough, and when it is ready, you can apply the docker.
This utensil is made of plastic that is also safe for cooking food. It's intended for making the holes in the dough, so it will bake more evenly. The measures of the docker are 7.9 x 4.8 x 2.4 inches. So, thanks to such a construction, you can minimize the bubbles in the dough. It has a wide range of applications. You can also cook pies, pasta, pastries, and a lot more, ending up with an ideal dough.
Two rollers obviously cost more than a single device. However, the price is higher than other models have, even more than the device by Aphse above.

---
---
back to menu ↑
6. Cooyeah – Pizza Dough Roller for Home
The Cooyeah's roller and docker set is designed for quick and easy working with the dough. You can use it for making pizza, pies, cookies, various pastries, etc. The kit includes the 2-in-1 roller. The larger pin is 4.5 inches, and the smaller one is 2.7 inches. Both are made of wood and have metal framing for durable usage.
Also, the set has a plastic dough docker with 4.1 inches in width. It has a convenient handle, so it's very convenient to use the tool. I don't recommend washing it with water; wood rollers are better to clean with a damp cloth. Otherwise, the material may get damaged.
The roller doesn't stick and creates a nice crust. Also, both instruments feature a comfortable handle and don't require a lot of space to store.
This set of roller and docker is one of the most affordable options on the market. The price varies depending on the seller.

---
---
back to menu ↑
7. Lasenersm – 1-Piece Pizza Sheeter
This is a versatile roller for making pizza, pies, noodles, cookies, etc. It also can be used for 5D diamond painting and stamping. So, if you're also interested in art, this instrument would complement your hobby. It is made of natural beech and stainless steel. Such materials make the roller durable and protect it from damage.
The hardwood is easy to clean. You should wash it with warm water and a little soap. But the strong oxidant or acid may damage the roller, so you should be careful with the cleaning solution. The instrument is lightweight and easy to store. It measures 3.74 inches in width, which is good for making crust pizza dough with less effort.
The kit includes only one roller, so the price is really affordable. With this device, you get high-quality for the money.

---
---
back to menu ↑
8. Originalidad – Pizza Dough Roller for Home
For some people, an H-shaped roller can be inconvenient to work with. So, Originalidad offers a set that includes both T-maple and H-maple rollers. The first one is perfect for children; they can use it with a little effort and enjoy the process of making delicious pizza. The materials are completely safe and don't include any wax and oil paint. The rollers are made of natural beech of an appealing color. Moreover, it will be challenging to break or crack it. Due to the multiple benefits of the device, it can be a decent alternative to a pizza dough roller machine for home.
A T-maple roller is 4.5 inches in width as well as the larger H-maple pin. The smaller one is 2,8 inches. The rollers have smooth and easy-to-grip handles so that you can roll pizza as long as you need, without your hands getting tired. These instruments are also excellent for making other pastry. You should wash them with warm soapy water after use and air dry the rollers further. They won't lose their shape or surface structure.
I should admit that the quality of the set is worth the price. You will get two decent wood rollers at a moderate price.

---
---
back to menu ↑
9. POLARHAWK – Reliable Pizza Sheeter
This Polarhawk kit includes a plastic docker and a 2-in-1 wood roller. It's all you need to roll the perfect crust, smooth the edges, and reduce the bubbles in pizza. The docker has 2.5 inches in width. It is made of top-quality plastic, which is highly durable and can withstand hot water. The H-maple roller is wooden, which makes it safe and eco-friendly. It has 4.5 and 2.7-inches pins. However, it can get damaged if you put it in boiling water.
You can apply these rollers when making pizza, pies, noodles, pasta, etc. The docker has a convenient handle, and you can roll the dough already on the pan. Its fabric doesn't stick to the dough. It takes a few minutes for your perfect homemade pizza to be ready.
The manufacturer uses top-quality materials that increase the price several times more than other rollers offer. However, you get a reliable and smooth roller and docker for the money.

---
---
back to menu ↑
10. HQDeal – Easy-to-Clean Dough Stretcher
This HQDeal rolling pin is made of natural beech, which is free of smell and eco-friendly. It also has a smooth wheel system. This means you don't need a lot of effort to roll the dough quickly. The framing is made of durable stainless steel. The dimensions of this device are 4.52×1.46 inches, with a handle of 4.48 inches in length. Except for pizza, you can also prepare egg tarts, ravioli, tortillas, fondant, and so on.
It's better to clean this roller with a damp cloth. As the instrument is small and lightweight, it's easy to store it. If you're not satisfied with the product, you can always contact the manufacturer – there is a 6-month warranty.
This utensil by HQDeal is one of the most affordable options for making pizza. At the same time, it is durable and has plenty of benefits.

---
---
No products found.
back to menu ↑
Unforgettable Pizza with the Best Pizza Dough Roller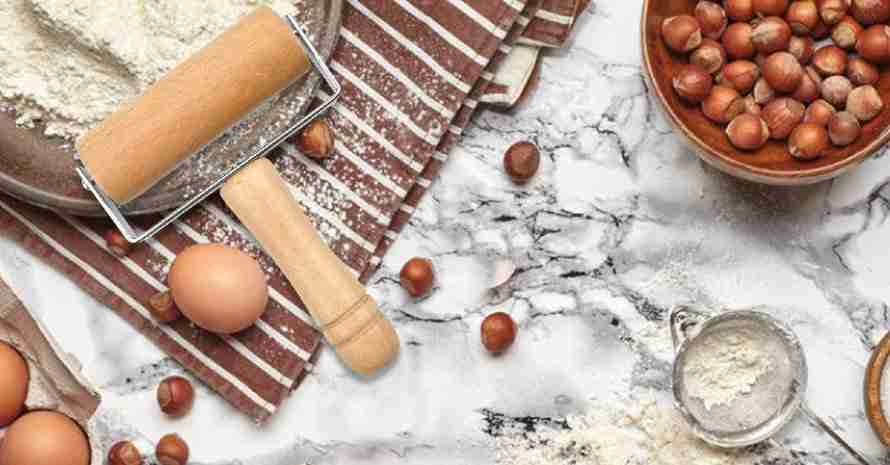 I hope that today's pizza dough roller reviews will help you find the best instrument for you. You might think that making dough with bare hands is way better. However, using this technique, you can't always achieve a perfectly smooth dough without any bubbles after baking. On the other hand, a high-quality pizza dough roller can definitely cope with this task. What is more, you don't need a lot of effort to use it. It takes only a few minutes to clean the roller, and it doesn't require much maintenance. Choose the rollers made of natural materials, and you ensure their safety.
Have you ever used a pizza dough roller? Do you like how it worked with the dough? What would you like to recommend to beginners? Please, leave your comments in the section below.