Best Pizza Oven for Grill that You Should Purchase Today
It's hard to name something better in this world than a freshly baked homemade pizza that makes you feel dizzy from its smell and look. To make it happen, you need to get a quality oven to use on a grill. It may be the most challenging step on your way to preparing a savory pizza, so keep reading, as I will help you find the right tool that will make you closer to your pizza dream.
In this article, I am going to review the seven best grill ovens available on the market. I adore homemade pizza, and one day, I decided to buy a pizza oven for the grill in my backyard. After I have purchased the first oven, I was deeply frustrated, as it didn't work well. Then, I decided to give it a second chance but to pay more attention to the manual that was provided within the package, and my second attempt resulted in a perfectly cooked pizza.
With time, I have tried different pizza ovens for a grill, and I am ready to share products that I found the most helpful and reliable on the market. Thus, you can learn about the existing models before buying yourself a pizza oven.
Amazon Bestseller
Top Seven Pizza Ovens for Your Grill
Down below, you will find out about the seven most amazing ovens that are worth considering purchasing for yourself. Check out the main pros and cons of each model to make a well-informed decision.
1. Camp Chef Artisan Pizza Oven for Grill – A Must-Have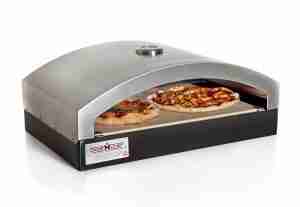 It is one of the best pizza ovens that I have purchased for myself. This one is designed by a renowned brand that creates various grills, stoves, ovens, and everything for outdoor cooking.
The wood fire oven will be perfect for everyone who wants to bake yummy pizzas on a grill. The main thing to mention this model is that it has a ceramic stone that will help the oven heat up evenly and create a tasty, crusty pizza that will never burn.
With this amazing item, you can enjoy cooking homemade pizza in your backyard, patio, as well as take it with you for a picnic in the woods or camping. You can take this tool with you and create delicious pizza with ease. It is possible to cook homemade pizzas, as well as frozen or premade ones, too. The oven will also be suitable for baking bread, cookies, pies, and so on.
The temperature range of this oven can attain 700° F, and you can easily check it out on a convenient temperature gauge to monitor the heat level. When it reaches the desired notch, you can simply put pizza inside and wait until it's done.
The heat diffusion plate will ensure your pizza is well-baked and has a crispy crust. The ceramic stone will keep the dough fluffy and moist on the inside. The item will help you to cook perfect pizzas that will make you want to use the oven over and over again and enjoy the most delicious food in your life. This opened face oven will be perfect for gathering in the fresh air and eating yummy fresh Italian pizzas together with your family and friends.
In addition to the oven itself, you will get an amazing cooking guide with a variety of recipes that you can use to diversify your cooking routine and prepare something very delicious. The manual will be a great chance to experiment with ingredients and try out something new.
---
PROS:
Great price;
Fast pre-heating;
Durable ceramic pizza stone;
Adjustable heat level.
---
Be careful with the oven, and always use cooking gloves that will protect your hands from burning. Just put the oven on your grill, wait until you get the desired heat level, and put your pizza inside.
The price is quite reasonable for such a great oven, and I would certainly recommend this model to everyone. You might also want to buy an additional set of accessories that will make the cooking process more convenient for you. I would recommend the following items that will make your life easier:
A cutter will be useful, and it will be simpler to use than a regular knife;
A spatula will help you to put the pizza inside the oven and take it out;
A pizza peel will be perfect for storing or serving freshly baked pizza.
2. BakerStone Original Box Kit – Pizza Oven Grill Box with Helpful Instruments
This model includes everything you need to start baking pizza, except for the pizza itself. It has a wooden peel, a metal turner for pizza, and the oven box itself. Depending on the type of pizza you bake and the number of toppings you put there, it may bake the food in 4 minutes or even less.
The device easily converts large gas grills, 3 burners, pellet grills, or large charcoal grills into the oven. You are not limited by pizzas only. You can put vegetables, bread, fish, and even meat inside it. Thanks to the powerful convector, radiant and conductive heat, the box itself may reach 800F. It depends on the grill you use. Before you put pizza or other products inside, preheat them for 20 minutes.
---
BakerStone O-ABDHX-O-000 Original Box Kit Pizza Oven
Simply place on a grill and bake gourmet pizza in 2-4 minutes (performance may vary by grill)
Bakes pizza, breads, roasts meats, vegetables and fish
Converts most 3 burner and larger gas grills and large charcoal or pellet grills into a pizza oven
PROS:
Heats up to 800F;
It takes 4 minutes to bake pizza;
The double-wall ceiling keeps the heat;
The box is portable;
It comes with a pizza peel and turner.
CONS:
The size is limited to the 14-inch pizza diameter.
---
3. Camp Chef Italia Artisan Pizza Oven for Grill – A Family Size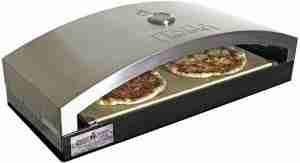 Here is another amazing model by the most popular brand that creates amazing cooking devices. This opened face oven is made to help you bake the best pizza ever. The pizza stone is made of high-quality cordierite ceramic that will ensure the most delicious taste. The stone will provide even heat distribution so that your pizzas will be well-baked inside and outside.
The model has a domed oven top for better hot air circulation, as well as a rear vent. This tool imitates an operation of a real brick oven to ensure the greatest results that everyone will be thrilled to taste. Heat diffusion plates will make an amazing crust and keep the dough moist enough.
You can enjoy not only freshly baked savory pizza but also homemade bread and cookies that you can make in your backyard. The oven is even applicable for cooking fish and sandwiches. The ceiling has a double layer that will make the heating process more dynamic for ensuring the most delicious food.
After you unpack the device, the oven will be ready for use in just seconds. There is a convenient temperature gauge that you can use to check out the heat level and get control over the cooking process.
With this oven, a fluffy Italian pizza can be baked by anyone with ease. I would certainly recommend this model, as it's everything you need to make the tastiest pizzas that will make you want more and more.
The size of this oven allows for making extra-large pizzas that will be enough for big families and companies of friends. Also, with this amazing oven, you will get a small but very useful gift. It's a cooking guide that will give you access to the most sophisticated pizza recipes that you can use to cook something new and extraordinary and surprise everyone.
---
Camp Chef Italia Artisan Pizza Oven
Opened face pizza oven cooks like a traditional brick oven
Pizza stone made of cordierite ceramic
Includes Italia Pizza Oven Cooking Guide with recipes
PROS:
Distributes heat evenly;
Sufficient cooking surface;
Heats up fast;
Temperature gauge.
---
To bake the most delicious pizza in your life, turn the grill and oven on. Then wait until the oven heats up to the desired temperature level, and put your pizza inside it. Using cooking gloves, as well as a spatula, is obligatory not to burn your hands. This model is a bit pricier than the previous one because of its size, but the cost is still pretty affordable for most households.
In addition to this oven, you can buy accessories that will be useful during the cooking process. Consider purchasing the following items, but remember that it's not mandatory. However, these tools will make the process more effective and pleasant for you:
A pizza oven kit that includes a spatula and a cutter;
A steal oven door that will make the baking process even faster;
A brush that will help you clean up the oven most conveniently and simply.
4. Green Mountain Wood Fired Pizza Oven for Grill – A Powerful Stainless Steel Model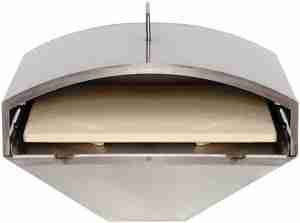 This tool is produced by a popular brand that offers high-quality grills, ovens, and accessories. The company is chosen by hundreds of customers from all over the world. I would also recommend this pizza oven for its great quality and functionality.
The oven includes a pizza stone to prepare amazing delicious pizzas with ease. This model will be suitable for GMG Pellet Grill that can be easily converted into a professional oven.
With this amazing device, you will be able to cook a homemade pizza in just a few minutes. The model can heat up to the temperature that will imitate the real wood-burning oven to prepare an authentic pizza with crust and moist dough. The heat is channeled from the firebox to the baking chamber for the fastest results.
The oven can heat to the temperature of up to 800° F to bake a perfect pizza in 2-4 minutes and bring enjoyment to your family or friends. The housing chamber is made of high-quality stainless steel that ensures a powerful airflow system that enhances the heat to bake faster.
With this pizza oven, you can experiment with various pizza recipes, as well as bake some other dishes, including bread, pies, cookies. There are no limits to your culinary ideas that you can easily implement with the help of this tool.
It will take just a minute to install the oven on a grill. All you have to do is to remove the grates and grease the tray and shields if needed. Then place a pizza stone on the tray and put the dome on the grill. The manufacturer grants the top-notch quality and offers three months of warranty. This oven is certainly worth your attention, and it would be great if you considered this model for purchasing.
---
PROS:
Heats up fast;
High-quality stainless steel;
Has a powerful airflow system.
---
Be careful while using the oven, and always wear cooking gloves. Also, use a spatula or wooden pizza peel with a long handle that will protect your hands from extreme heat. Simply install the oven, wait until it heats up, and put your artisan goods inside.
The price of this tool is average compared to other devices on the market and can be a great investment for any family. Since there are no accessories included in the package, you might want to purchase some to make the cooking process safer and simpler. Cooking accessories will help you to stay safe and protected from heat while preparing and serving your freshly baked pizza. I would recommend getting the following items:
A wooden pizza peel to easily place a pizza in and take it out of the oven;
A convenient pizza cutter;
A brush and an ash shovel to easily clean the oven and keep it tidy;
A grill spatula is also a useful tool.
5. Universal Stainless Steel Pizza Oven for Weber Grill – A Great Portable Tool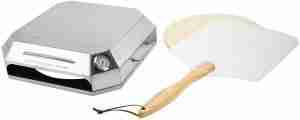 Another pretty renowned brand produces this oven. It can be a perfect choice for baking savory homemade pizzas and enjoy priceless time with friends and family outdoors over the delicious food.
The model is made of durable stainless steel and is resistant to extreme heat. The oven can also be used for baking bread, cookies, and pies. In the kit, you will also get a thermometer that you can use to measure the heat level and see when the oven is ready for baking. Besides, you will get a pizza stone and a convenient peel to use for placing the pizza inside the oven.
The double-wall ceiling is created for better heat retention. It will enable you to bake pizzas faster and keep them crusty and moist inside. It's possible to use the oven for homemade pizzas, as well as for frozen ones. The size of this oven is quite small, so it will be perfect for a picnic or family rest in the countryside, as you can take the model with you easily.
The model will be suitable for any kind of gas grills, including Weber grills. The oven has a professional design that allows for an amazing taste of baked goods. You can easily install the oven in a few minutes. Thanks to its compact size, it fits most of the standard grills, and you can be sure this oven will suit your device, as well. I would recommend this oven because of the top-notch materials used and its design that allows cooking the most amazing pizzas.
---
PROS:
Great price;
Made of top-notch stainless steel;
Professional design;
Set of accessories included.
CONS:
Pretty small cooking surface compared to previous models
---
Before cooking a pizza, wait until the oven heats up to the desired temperature. Then place the dough inside using the utensils that you also get in the kit. In a few minutes, you will get a yummy fresh pizza that you can enjoy. The manufacturer recommends not to close the grill lid when baking, as if you keep it open, you won't let the thermometer turn black.
The price of this kit is amazing, as it's costs less than average. Moreover, as a great bonus, you will get accessories that you will need while cooking. It is more than an affordable and practical choice for a family.
As I have mentioned, all the essentials are already included in this kit. However, I would recommend purchasing some additional accessories to have no worries while cooking, including:
A topping organizer will be a perfect addition to keeping all the ingredients separately and making the cooking process more neat and simple.
Cleaning accessories to get rid of ashes and keep the oven tidy and sparkling.
6. Skyflame Universal Oven Kit – Extended Pizza Oven Grill Attachment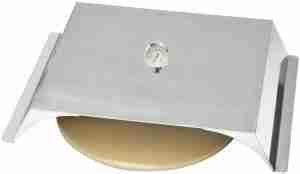 This kit comes with a thermometer and ceramic pizza stone. The 22 inches x 15 inches oven box is compatible with BGE, Weber Grill, Pit Boss, Kamado Joe Classic, and Char-Griller. I still recommend you measure the grill before you decide to buy the box.
Using this device, you will receive pizza in up to 8 minutes, depending on its size and toppings. I recommend you to use its cordierite ceramic stone that consumes the water from the dough and makes even frozen pizza delicious. The crust comes out just like in the best pizzerias. The model is open-faced. It holds the temperature inside for a long time. It can hold 2100F.
---
PROS:
Heats up to 2100F;
Compatible with numerous grill models;
Comes with ceramic stone and thermometer;
Perfect for frozen pizzas;
Easy to carry around.
CONS:
The pack does not include a metal pizza peel
---
7. Broilmann Open-Faced Pizza Stone for Grill and Oven – The Right Option for Picnics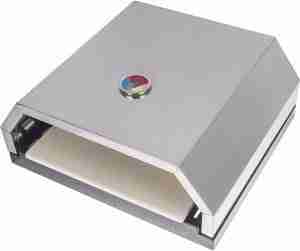 Last but not least on my list of top pizza ovens is this model created by a famous brand that offers a variety of items for grill and BBQ. By purchasing this item, you will get a perfect oven, as well as a pizza stone that will allow you to prepare the most delicious pizzas at home.
The main thing to mention about this product is that the oven is made of high-quality, durable steel. The pizza stone is made of cordierite ceramic that will distribute heat evenly to bake perfect pizzas.
This oven is perfect for not just baking pizzas but preparing homemade pies, cookies, and bread. This item is something worth purchasing for perfect weekends on your patio.
There is a convenient thermometer placed on the top of the oven that will let you know what the temperature is inside so that you can start cooking pizzas at the right time. The ceramic stone will ensure the amazing crust, while the dough will still stay fluffy and won't be overdried. The oven allows baking some authentic and tasty pizzas, and it's never been easier to get perfect homemade goods.
The oven can be easily installed on your grill, and this process will take only a few minutes. This model is the right option for picnics in the countryside, as you can take the device with you in a car and enjoy freshly baked pizza, even if you are far away from home. It is a perfect choice that you can make, and I want to recommend this amazing pizza oven for everyone.
---
PROS:
A convenient thermometer;
A quality ceramic pizza stone;
Made of stainless steel;
---
Install the oven on your grill and start cooking, but always remember to wear heat-resistant gloves to protect your hands. Try to keep away from the hot oven and use a peel with a long handle to stay protected from the fire source. It is the best way to cook and to stay safe.
The price is very affordable, and this model costs less than average ovens. It is a great choice for such a price, as you will get an amazing oven that will grant professional results and delicious pizzas to enjoy. Nevertheless, purchasing some additional accessories is also recommended, as you need them for safe and convenient baking. You might want to buy:
An aluminum or wooden pizza peel with a long handle so that you could safely put your pizza inside and take it out while keeping your hands protected;
Brushes for cleaning the oven;
An oven door and pizza stand are optional.
Pizza Box Oven Buyer's Guide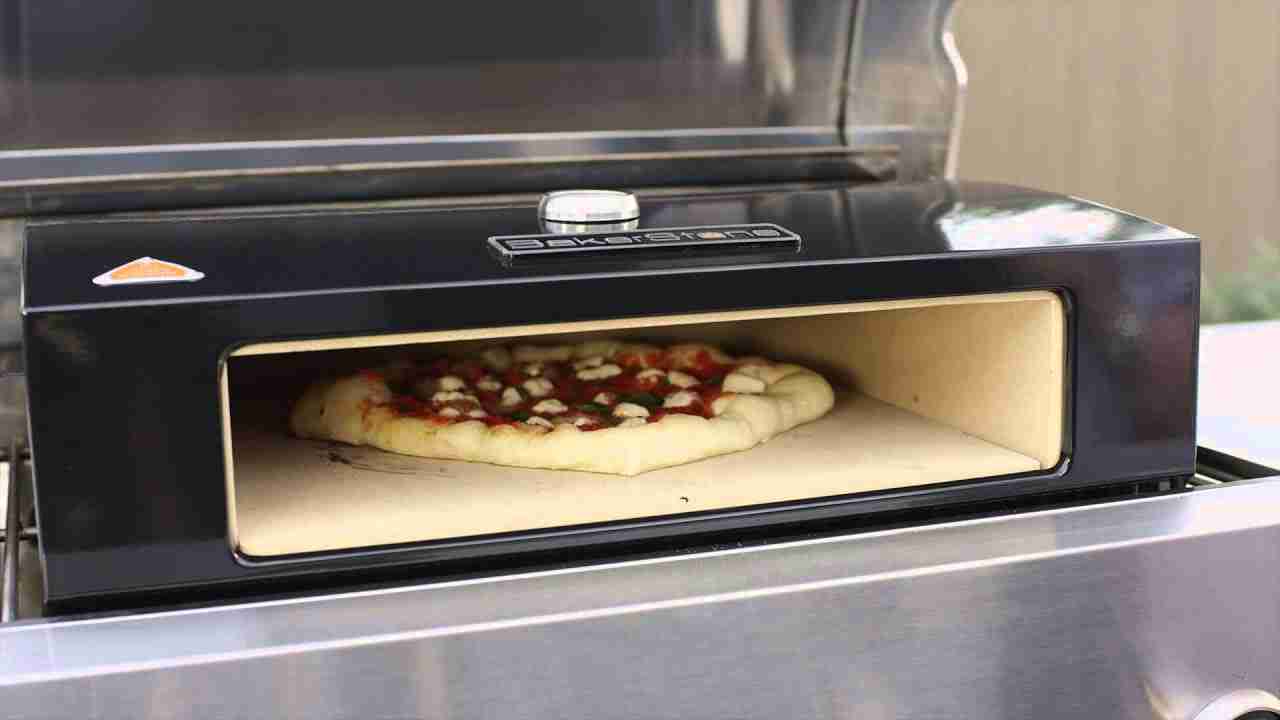 If you are still doubtful about which oven to pick, I recommend reading this detailed guide. It may be helpful for you. After you finish it, go back to the pizza oven for grill reviews, and you will easily find the one you need.
Things to look for in a pizza oven for your grill
A pizza oven may not be the most expensive tool in your arsenal, but it does not mean you have to buy the first box you see. It may be simply unsuitable for your grill or does not match your demands. You have to pay attention to the details. The size of the pizza oven is one of the most important aspects. You do not want to get an oven that is too small or too big. Another thing to consider is the material. Some materials heat up faster than others. If you want a crispy crust, you will want an oven that heats up quickly. If you are looking for an authentic wood-fired pizza, you will want an oven made of brick or stone. There are also electric pizza ovens available, but they may not give you the same results as a gas or wood-fired oven. Whatever type of oven you choose, make sure it is durable and well-made so that it will last for many pizzas to come.
Size
This oven is simply an attachment to the grill you already have. It means that you have to find out the dimensions of the grill and compare it with the oven. If the grill is not compatible with the oven, you will just throw away the money. Don't forget about the size of pizza you want to bake. Don't limit yourself if the grill allows it. The average pizza oven can bake 12-inches and 14-inches pizzas. The largest oven bakes 16-inches pizzas.
Heat
Naturally, pizza ovens for grills can be heated more than the grill itself. If your grill is powerful enough, it can be heated up to 2100F. The lowest temperature on this list is 700F. Still, it depends on the oven's convection skills and the ability to hold the temperature. Double walls increase the heat inside and keep the temperature for longer. However, you have to pay attention that you don't need high temperatures to bake pizza. Usually, it requires 700-800F. It can easily burn down with higher temperatures.
Materials
Stainless steel is the most popular choice for pizza ovens. It is durable and easy to clean. Steel is not heavy, which is perfect for outdoor parties. It can be covered with other materials; however, you have to make sure that they are durable. The pizza stone that comes in every kit must traditionally be made of cordierite ceramic to consume the extra water from the dough and make your pizza crusty.
Portability
I have already mentioned it several times. Your pizza oven must be portable. The ideal version also has a handle on it, so you can carry it around. Before you order the oven, check out its weight. Some ovens weigh only 25 pounds, while others might go over 50 pounds. The device does not have to be too heavy.
Price
Price is an important aspect you have to consider when buying the oven. I have gathered the models I personally consider the perfect match between price and quality here. Make sure the item does not cost more than $500. Yet, don't trust ovens that cost less than $200. Pay attention to the reviews of the customers who have already bought the oven.
Popular Questions About Pizza Ovens for Grill
Pay attention to those questions that people often ask about the pizza oven on the grill. I have tried to answer them in detail. If you have something to add, please do it in the comments.
How to choose a pizza oven for your grill?
I believe I have already answered this question above, so you can go back there. Here is a brief summary for you. Pay attention to the next features:
The size of the oven. It must not be bigger than the grill you have. It should be compatible with the grill, or nothing will work. You have to check the model and even contact the developers if you are not sure;
The heat it holds. The average oven can hold 700-800F temperature;
The baking time. The completely pre-heated oven does not need more than 8-10 minutes to bake pizza;
Materials. It should be made of high-quality stainless steel;
Weight. Since you will have to carry it around, the oven must be almost weightless. Pay attention to whether it has a handle or not.
Can this be placed on a flat top grill?
Yes, you can use a pizza oven on a flat top grill if they are compatible. A pizza dome will suit the open grill well. It looks like a chamber with a roof over your pizza. This chamber protects the food from the wind and rain.
Besides, the heat is even in the chamber. You can cook faster with the oven than on the open grill. Grills usually do not have covers, and it will take longer to bake pizza from the bottom to the top.
How hot does the pizza oven get?
It depends on the grill you have. The oven doesn't heat more than the grill. Make sure that your grill is powerful enough. On average, the oven heats up to 600-800F. This is enough for any pizza, no matter the dough, toppings, or layer of cheese.
I have also described a powerful oven that heats up to 2100F if you need it. This oven could be more suitable for meat than for pizza.
Final Thoughts
Pizza is one of the most favorite foods worldwide, and many people dream of starting making tasty pizzas at home. That's why it's important to choose a durable pizza oven that will allow baking the most delicious pizzas.
In this article, I have shared my personal experience with such devices, and I hope that this information will help you with choosing the perfect pizza oven. Some time ago, I struggled with finding a great oven, as the quality of pizza depends on it. After a long searching process, I have found a few products worth attention.
With my list of top ovens available on the market, you are welcome to pick the one to your liking and start using it for baking delicious homemade pizza. I recommend considering the main pros and cons of each model.
Now, I would be happy to hear from you. Leave your comments below and tell me what your ways of preparing pizzas are? Which oven from the list above have you noted for yourself? Don't hesitate to share your previous experience with baking pizzas at home.