Since my childhood, cooking has been one of my most enjoyable activities, and as the years went by, so did my passion for the kitchen grow. For me, cooking is art, and I love the aspect of using different ingredients to prepare alluring food I can enjoy with my family and friends. Pizzas are among my most favorites, and a device I found vital to use when baking pizzas is an oven thermometer.
The availability of numerous thermometer options was confusing at first, as I had a hard time figuring out what model would be the best pizza oven thermometer in my case. With time, I got to understand some specifics associated with quality thermometers. It is for this reason that I decided to do several reviews of my favorite pizza oven thermometers to guide pizzaiolos and other pizza enthusiasts.
Amazon Bestseller
The Six Best Commercial Grade Oven Thermometers
Pizza oven thermometers are essential tools in both home and commercial pizza making, as they make it easier for one to bake this dish at the right temperature. With the significance of these tools, it is vital to get a good-quality oven thermometer that you can rely on. Let's have a look at the top six oven thermometers on the market.
1. ThermoPro Digital Thermometer – Wood Fired Pizza Oven Thermometer With Long Probes
Any product that comes with a long warranty is an indicator of superiority, as the manufacturer has unwavering confidence in the quality of its product. The ThermoPro digital thermometer comes with a warranty of up to three years and is, therefore, one of the items you can purchase without any uncertainties.
As a digital thermometer, it is different from mechanical models in that it should not be placed inside the oven, but in the probe that heats up to capture the heat level. It is a leading wood-fired pizza oven thermometer with long probes, thanks to its accuracy and usability. It has a considerably wide temperature scope that ranges between 32℉ and 572℉. The coolest aspect of this thermometer, in my opinion, is that it comes with temperature presets for specific foods.
Also, it has both countdowns and count-up functionalities, and these features are useful in different kitchen applications, including pizza making. Its long probe makes it fast to capture temperature levels and in an accurate way. Its usability is worth commending, as it has an intuitive user interface. Given the fair price and no need for additional accessories for using it, I would recommend this TermoPro thermometer any day, any time.
Sale
---
PROS:
Offers both countdown and countup functionalities up to 99 hours and 59 minutes
Has great precision and measures temperatures in the range between 32℉ and 572℉
Has a long and sturdy probe that allows for fast and accurate temperature readings
Comes with recommended pre-set temperatures for specified foods
Has a warranty period of up to three years
Does not have a well-stable base
CONS:
Does not have a well-stable base
---
2. Rubbermaid Stainless Steel Thermometer – Best Pizza Oven Thermometer for Commercial and Home use
Rubbermaid Commercial Products is a top-ranking brand known for manufacturing superior commercial and home-use tools. Their stainless steel oven thermometer is a heavy-duty instrument designed for efficiency and durability. Among the many reasons, I love it for its usability in different setups, both indoors and outdoors.
It covers a wide temperature scope between 60℉ and 580℉, and it makes monitoring baking heat at different temperatures possible. Its strong metallic casing makes it long-lasting, as the thermometer can withstand intense heat and breaking.
Usability is excellent, as it does not require batteries. By operating mechanically, this thermometer comes as a reliable solution that is always ready for use. It has a considerably large base to facilitate stability and can also be suspended, as it has a hook at the top. The price is higher than the previous item, but the quality is worth the cost. Noteworthy, this instrument has been approved by the National Sanitation Foundation.
You can simply place it on an oven shelf or suspend it inside the oven. A precaution, the thermometer heats up inside the oven, so, for that reason, always wear a kitchen glove or use a towel to remove it. If you haven't purchased kitchen gloves yet, it's the right time to get yourself these accessories to be safe during baking your tasty pizzas.
Sale
---
PROS:
Covers a wide temperature range, as it reads between 60℉ and 580℉
Made of stainless steel to last long for extended service
Does not use batteries, as it operates mechanically
Approved for use by the National sanitation foundation
Suitable for use in different kitchen setups, whether it's a professional or a home kitchen
---
3. Taylor Classic Series Oven Thermometer – High-Temperature Pizza Oven Thermometer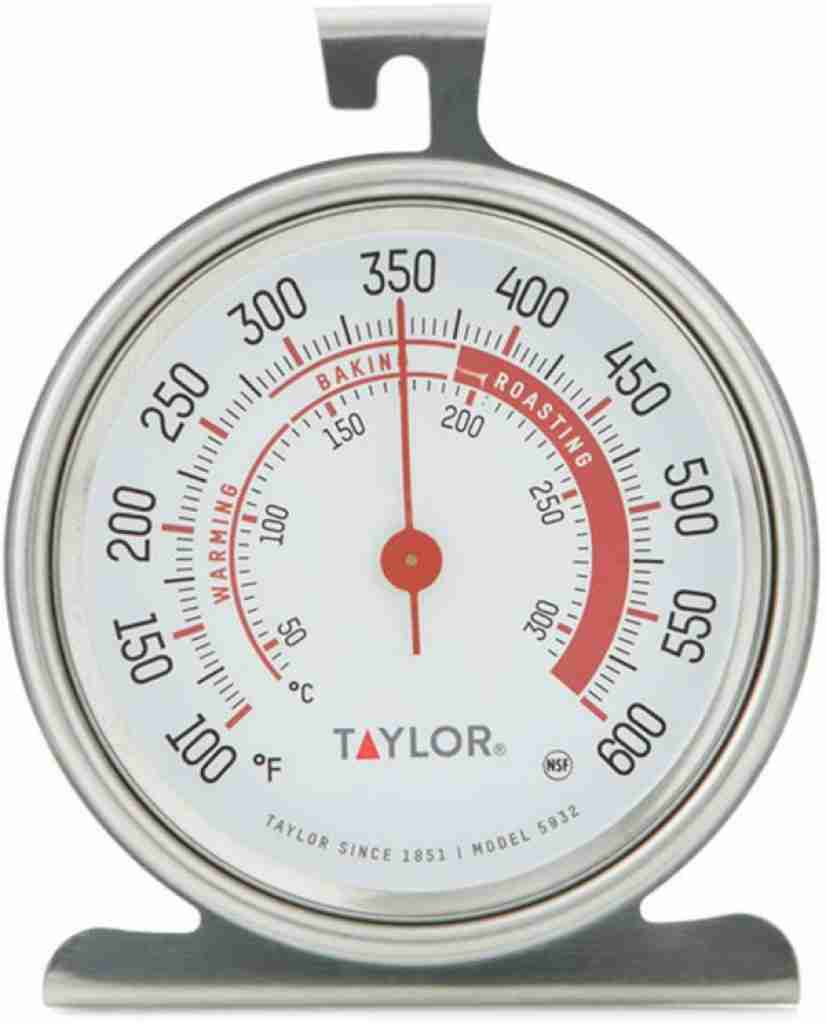 The Taylor Classic Series is a leading brand as far as oven thermometers are concerned. It manufactures some of the most accurate oven thermometers and is a favorite pick of many professional pizzaiolos. The instrument is long-lasting, as it features a strong steel casing and hardened glass.
The item is easy to clean and maintain, thanks to its rust-resistant outer surface. It can either be placed in the oven or suspended from an oven tray. Also, whether you are baking indoors or outside, this thermometer is designed with versatility in mind to accommodate different settings. Looking at its scope of measurements, this Taylor Classic Series thermometer can measure temperatures ranging between 100℉ and 600℉.
You can confidently purchase it without fear of losing your money, as the manufacture offers a one-year warranty. It indicates the level of trust in the authenticity and reliability of its products. The price is above average, but the accuracy of readings is worth the spending, and there are no additional accessories needed for using this cool device. It is a tool I would use any day without fear of getting the wrong temperature readings.
Sale
---
PROS:
Features a large dial and a visible indicator for easy reading of the thermometer
Made of robust stainless steel and tough glass to last long
Can be placed on a surface or conveniently hanged, depending on the kitchen setup
Provides accurate readings, measuring temperatures in the range between 100℉ and 600℉
Comes with a one-year warranty so that the purchase can be made confidently
---
4. CDN POT75OX High Heat Oven Thermometer – The Most Accurate Pizza Oven Thermometer
The CDN POT75OX is a robust oven thermometer crafted to provide impeccable accuracy and long service. It is made with industrial-grade stainless steel that is not only resistant to rusting but also tolerant of extreme oven temperatures.
For the ease of reading, the thermometer has a sizable dial with well-visible calibrations and a conspicuous indicator. Its usability is commendably easy, as one is only required to place it in the oven and do readings. There are no additional accessories needed to reading its digits, and besides having a wide base, it also has a hook for suspension. The thermometer also offers a wide temperature coverage, as its calibrations range from 150℉ to 750℉.
In matters of longevity, this thermometer has a long service life, thanks to its sturdy metallic casing and strong dial glass. Also, it comes at a low price and, therefore, is ideal for all individuals. Considering these attributes, coupled with the reliability of the device, I would recommend this thermometer for both home and professional use.
Sale
---
PROS:
Made with heavy-duty stainless steel with a sturdy glass for long service
Conveniently stable, thanks to the sizable base and the sturdy hook
Covers the extensive scope of high temperatures, as it reads between 150℉ to 750℉
Facilitates accuracy by providing precise readings in high-temperature ovens
Has a conspicuous red indicator for easy reading
CONS:
A bit small in size for convenient reading
---
5. Admetior Kitchen Oven Thermometer – Outdoors Pizza Oven Thermometer
When listing down trusted oven thermometer brands, Admetior should be on the list. Its large dial enhances usability, as it is easy to read temperatures accurately. When baking pizzas in different heats, this thermometer has you covered since it has an extensive temperature range of 100℉ to 600℉.
You can trust its preciseness because the model is designed to offer consistent readings regardless of the environment in which it is used. Made of stainless steel and industrial-grade dial glass, this thermometer will serve you for a long period. So, by acquiring a device at a relatively high price, you are guaranteed long service life. Also, it is a top pick for pizza ovens used outdoors.
Also, it is easy to use, as the thermometer has a wide base that offers stability while in the oven. It can also be conveniently suspended in the oven or during storage as it has a hook. Based on its superiority and dependability, I would recommend this model to all pizza-making enthusiasts.
---
PROS:
Features a hanger and a stand for easy placement and mounting
Has a conveniently large dial for easy reading
Has an extensive temperature scope between 100℉ and 600℉
Its strong metallic casing and robust dial glass offer longevity
Designed for diverse applications in professional and home kitchens
---
6. KT THERMO Oven Thermometer – Affordable Wood Fired Pizza Oven Thermometer Alternative
When we talk about quality assurance, no brand beats KT THERMO. Their oven thermometers come with a two-year warranty and an additional thirty-day money-back guarantee. The thermometer is commendably precise in readings and has a wide temperature range of 100℉ to 600℉.
It has a heavy-duty casing and a strong base for longevity and stability, respectively. You can be sure that it will serve you for long, as it is rust-resistant and easy to maintain. Another good thing about it is that it is inexpensive, besides being a superior product on the market.
The only con is that it may be too small for some users to read the measurements comfortably. However, its convenient design makes it suitable for use in different ovens, including wood-fired ones. I would recommend it for both indoor and outdoor use.
Sale
---
PROS:
Precise in readings and offers a wide measurement range between 100℉ and 600℉
Features a hook for easy mounting and a wide base for stability upon placing on surfaces
Designed to last long thanks to stainless steel
Affordable
Comes with a two-year warranty and a thirty-day money-back guarantee
---
Factors to Note When Buying – Purchase Guide
Many individuals become unnecessarily disappointed simply because they pick the wrong products that offer little value compared to the expense. When buying something, it is essential to obtain sufficient information regarding specifications and notable attributes, as this paragraph will help you to make an informed decision of the right pizza oven thermometer to go for. So, here is a list of eight factors to look out for before buying a wood fired pizza oven thermometer or any other similar kitchen tool:
Temperature range covered
Size of the dial
Probe length
Sturdiness and durability
Maintenance and usability
Timing functionality
Stability
Accuracy
The first vital factor to reflect on before purchasing is the temperature range a thermometer can measure. Considering there are specified temperatures at which to prepare specific foods, you should choose a thermometer with an appropriate temperature range.
Also, be sure to buy a tool that can be used for preparing different dishes. With such a thermometer, you can measure temperatures when cooking heat-intensive meals and foods that do not require much heat.
The size of the dial and the thermometer as a whole is another consideration you need to make. A small dial makes it a little straining to read temperature measurements, and it may jeopardize accurate readings. It is for this reason that getting a thermometer with a larger dial might facilitate preciseness in readings.
However, if you are working with a small over, a big thermometer might not be the most appropriate option for you. It is, therefore, essential to pick a thermometer size that is consistent with the size of your oven.
Depending on the type of oven thermometer you are going for, the probe is a significant feature in digital thermometers. With a wide selection of digital oven thermometers on the market, these tools come in different sizes and, therefore, varying probe lengths.
Whether you are purchasing a thermometer for professional or home use, getting one with a somewhat long probe will prove helpful. When using large ovens, shorter probes might become challenging to use, as it might be inconveniencing and straining to reach the interior part. A longer probe, on the other hand, makes the work a lot easier. Another benefit of longer probes is that they facilitate fast and accurate readings.
Among the most important things to look out for are the sturdiness and durability of the instrument. Some oven thermometer brands are susceptible to breaking. When considering these attributes, the primary determinant is the materials used in the build of the device.
The pizza oven thermometer you choose should be made of a tough material so that it could withstand extreme temperatures, and it is more so for mechanical thermometers. The dial glass should also be strong enough to withstand the heat and curb cracks in case of falls. Devices made with a stainless steel casing are designed for tolerance to high temperatures and durability.
The aspect of usability is a major factor to reflect on, especially when getting a digital oven thermometer. It should be easy for one to use a thermometer without any uncertainties. The interface should be somewhat intuitive for both mechanical and digital oven thermometers.
Most digital kitchen thermometers have additional functionalities and, therefore, might give some individuals a hard time in terms of usability. Get an oven thermometer that you won't have any trouble using.
There are situations when chefs are handling several things at a go, and it may not turn out well if one is not careful enough. Having a thermometer with timing functionality can save the day, allowing you to attend to other things and be alerted when the pizza in the oven is ready.
Most applicable for professional use, the countdown and count-up functionalities are vital in ensuring a particular food has cooked well by allowing the chef to track the time taken. If it is a feature that would be paramount in your daily kitchen tasks, then going for a digital oven thermometer may be a good consideration, as most mechanical tools do not have the timing functionality.
Keep in mind that you won't be holding your thermometer in the oven, so the aspect of stability is one worth tackling. Most thermometers are either placed inside the oven or hanged, and, therefore, you need to get one that is stable enough to prevent falls and to allow easy reading of temperatures. Vital features that provide stability are a wide base and a hook in case you prefer hanging your instrument.
If all the above aspects are observed, and the accuracy of the instrument is not considered, then it would all be insignificant. A good oven thermometer should be accurate in its readings. With numerous models by different brands out there, selecting a good thermometer, of which accuracy and preciseness can be trusted, is not an easy task.
It is given that every manufacturer will speak positive volumes about their products, regardless of the mediocrity of their instrument. It is for this reason that you should check what other users say regarding the accuracy and reliability of a given oven thermometer before buying it.
For example, with these reviews, I have covered the best pizza oven thermometer instruments I've used and researched so that I can assure you of their accuracy in measuring temperatures. Take note of the eight attributes mentioned above before buying an oven thermometer, and you won't regret your buy. Following these guidelines will ensure that you get value for your money.
The Bottom Line
Preparing great meals calls for great skills, coupled with handing the right tools to help you. In this case, having the right oven thermometer helps in making delicious pizzas, among other foods.
You can purchase any of the high-temperature pizza oven thermometer tools reviewed above, and I can assure you that you'll get value for your money. I have recommended these models based on their reliability and quality.
A good oven thermometer should provide accurate readings, great usability, longevity, stability, and efficiency. The thermometer should be intuitive to use and sturdy enough for an extended service span. Those models made of high-duty stainless steel are conveniently durable and can withstand high temperatures without becoming faulty. For digital thermometers, check the ones that have long probes, as these tools will be efficient in fast and accurate reading of temperatures.
Additional functionalities, such as timing, are also vital aspects to take into account. Out of the six thermometers reviewed here, which one would you prefer and recommend? What other functionalities do you look for in a good oven thermometer? You're welcome to share your opinions in the comment section below.