Before talking pizza oven wood, let me drop an intro. In quarantine times, you may suddenly find out there's no pizzeria around. Here is the right moment to shake the dust off your own pizza oven… or buy one. Trust me: even when the restaurants are back, you'll avoid ordering pizza there just to save disappointment. The basics won't take you long, and then there's a lot to try and discover.
It took me many years to perfect the technique of pizza making, and a trip to Italy to grok it (it's not the same). It takes some relaxation and inner liberation to make the pizza you truly like, not just one of those standard recipes you're offered at pizzerias. So beware: once you get into home pizza-making, there's no way back.
It's a special sort of Zen to prepare the dough base and make ornaments on it. Strange as it sounds, for me it has always been a kind of turntablism. The base is round like vinyl, and adding meat, tomatoes, cheese, and other ingredients is like mixing, playing samples, applying effects. Regulating the heat output and selecting the right time is also a DJ thing. No wonder it took a musical nation like Italians to make this invention.
Pros
Strong smoke and great embers.
More on deejaying: no matter what great tracks you have to play if you have no sound system to fuel the party fire, they will all sound blank. When it comes to pizza, the fire is completely literal. It's summertime, so forget them electric ovens. The truest one requires wood: it provides better crust and some specific flavor. So let's talk about the best wood to cook with.
Amazon Bestseller
The Best Sorts of Wood for Pizza Cooking
The time we happen to live in is way easier than that of our grandfathers'. My grandad told me about the art of chopping the right wood in the forest on FaceTime after I taught him how to use it. Not that I recommend you going out to the forest with an axe to get some wood while buying it is easier and won't cause legal issues. Still, there are some rules to follow when selecting the right firewood for pizza oven.
No chemicals! As your pizza (and whatever you cook) is exposed to smoke.
When it comes to type of wood for pizza oven, there are many options. Fruit tree woods are a win-win option, but others (like birch, oak, hickory, maple) are good too. But you should avoid conifers, as the smell they provide, not bad when growing, works terrible on any food. Elm, sycamore, liquid amber tree, or eucalyptus aren't good for that either
Flammable liquids are good for extinction with fire. But when it comes to cooking, you better give it some time and chop a log or two into slivers. They will catch the fire and set it on larger logs. You'll need a small axe for that; don't forget it!
Soak the dry woods before starting the fire. It can be pure water; some like to add flavors to make the smell more pleasant, but it's better for pizza to keep it natural. After soaking, the logs will burn longer. Just keep them out to dry for a bit before putting them into the oven.
If you want the crust dry and crisp, you'll need to learn what wood burns the hottest (it's probably oak).
When you buy a prepared wood pack, though, you're free from most worries that pursue you in the wild. The manufacturers select the right sorts of wood and the right length to fit the oven. It's all explored, but it doesn't deliver you from selection pains. Choosing the best wood for cooking is what we do now.
1. Camerons Products Hickory Chunks: The Most American Type of Wood for Pizza Oven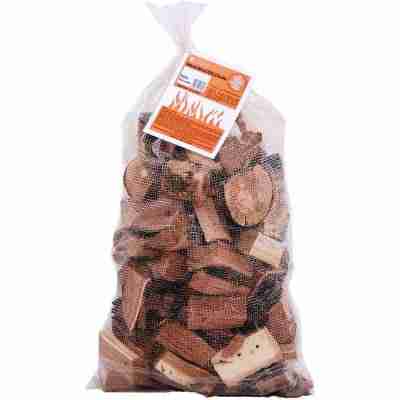 Hickory is among the most American trees (maybe after sequoia) known for its hard and heavy wood. When it comes to cooking, especially cooking pizza in ovens, it provides strong smoke and excellent embers when reaching the condition. If you like it so smoky it's obviously homemade, hickory is quite an option.
As for Camerons Products, it's one of the leading manufacturers of everything for smoke cooking, based in Colorado Springs. Of course, it assumes some level of expertise in producing woods for ovens.
The kit includes large but short chips that will certainly fit into any oven, packed into a mesh bag. There are options of 5, 10, or 20 lbs, different in size as well. The chips are easy to store, and if you don't burn the entire pack at once, the rest of it will retain its properties until the next time. But if the place you store it in may be humid, you better put the chips into something waterproof rather than the original mesh bag.
It's good if you plan just a short cooking session. These chunks will provide quick and fast fire. Buf if you're about to have a long outdoors party, you will need to get bigger and longer logs that keep the fire burning for longer.
Optionally you can order other tree woods from the same manufacturer. Among all the options, though, hickory is quite good for pizza. You can mix it with cherry or other less smoky woods if you want a little less of its distinctive flavor.
---
PROS:
Strong smoke and great embers;
Don't need long soaking;
Fit into various pizza ovens;
Various weight options;
Various wood sort options.
CONS:
Quite expensive;
Needs to be mixed with bigger logs;
The flavor may be too strong if you use hickory only.
---
The price is as premium as it's positioned, though – that is, obviously expensive. You can get twice as much wood from a less famous manufacturer.
2. Wilson Enterprises Split Firewood: Rougher Wood Burns Hotter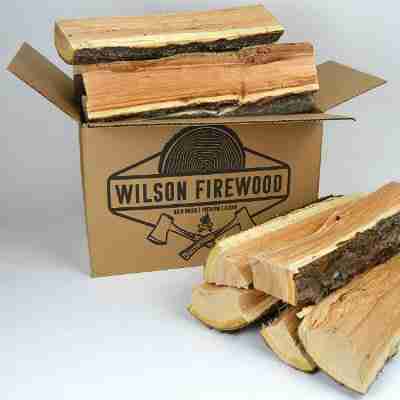 Wilson Enterprises is an American company too, it's based in Michigan. It specializes in Christmas trees and wooden décor, but some unconditional wood always remains. So the manufacturer also produces wood as fuel. As the most versatile pizza oven wood type, I would recommend oak chunks.
The pack contains kiln dried wood chunks – thick, roughly split logs about a foot and a half long. They are packed in a cardboard box that may be easier to send than a mesh bag. There are some wood sorts available – oak, cherry, maple, or birch. Oak is, though, the primary option, even despite the praised quality of the Upper Peninsula birch.
The flame of the oak chunks is not so bright, but it's not a campfire case to sit around and watch. In addition, it will require smaller chips and slivers to set it on fire. When finally ignited, though, oak burns long and generates enough heat to provide tasty, crisp crust and cook the meat, cheese, and vegetables on the base. A log provides 30-40 minutes of burning.
There are also cherry, maple or birch chunks as options. You can opt for any of those to combine with hickory, for example. Oak and birch, though, can be used with no additions. Growing worldwide, oak, unlike hickory, is a traditional pizza wood used by Italian pizzaiolos, and their experience is to be trusted.
---
PROS:
Burning long;
Generating much heat;
Pizza smoking is more authentic;
Easy to carry;
Requires no soaking;
High quality standards.
CONS:
Hard to split (if you need further splitting);
Requires smaller chips to ignite.
---
As for the price, you can imagine it, because it's an American Premium Wood, and it can't be cheap. The quality is always varying (it can't be other way with this unstable sort of product), so you can trust the brand – or search for something cheaper.
3. Zorestar Oak Smoker Wood Chunks: Wood Chips for Pizza Oven from Afar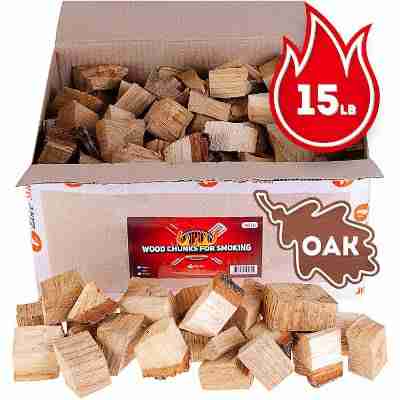 Does it make sense to deliver woods from half a world away? Sometimes it does. Zorestar is a Ukrainian brand specializing in wood for cooking. Not that it sells many various goods (probably due to logistics). But its oak chunks look like quite a good offer.
The cardboard box contains 15 lbs chunks, about 2-3 inches long (as far as we can speak about length, given these irregular shapes). They fit in any pizza oven and make perfect combination with bigger logs (like those by Wilson Enterprises). They are great when you need to feed the fire urgently. Being rather small and well dried, they ignite almost immediately and burn long enough to ignite a bigger log.
The only issue I haven't personally run into (though read in reviews) regards the weight. There have been complaints about underweight, when the package contained 10 or 12.5 lbs instead of the claimed 20 lbs. Since then, the package has been reformatted and now is advertised as 15 lbs. Still, it's cheaper than most similar goods; and if you're lucky to have it as it's promised (though taking chances is not okay), you have made a good purchase.
---
PROS:
Natural oak with no chemicals;
The size fits in virtually any pizza oven;
Good oak flavor;
Takes little time to ignite;
Reasonable affordable price.
CONS:
There are complaints about underweight;
The manufacturer is not so famous.
---
As for the price, it's quite reasonable (if the weight is correct). Despite logistics, it's about 33% cheaper than that of Camerons Products similar chips, being overall among the most affordable wood chips for pizza oven.
4. Smoak Firewood Cooking Wood Logs: The Best Wood to Cook with if You Do That a Lot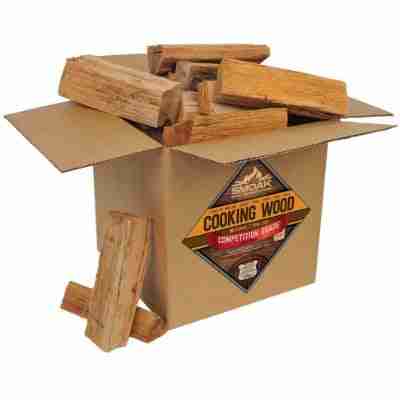 Oh what a pun they have put in the name! It's yet another American manufacturer, this time, based in Georgia. It's well known for its kiln dried woods that are widely used for pizza cooking. Some even argue it's the best wood for wood fired pizza oven; I wouldn't cut so sharp, because it's a matter of preferences.
The option I review is 8-inch long red oak mini logs, 2.5-inch high and deep (it's all approximate, of course). In terms of compatibility, it's the best main wood for cooking, as they aren't too long for any pizza oven. If you wish, you can buy standard 16-inch logs from the same vendor to combine them, adding bigger ones when the fire gets hot enough.
The pack in a cardboard box is supposed to contain 25-30 lbs of wood. Yes, the weight is specified this vaguely. The store, though, specifies it as 28 lbs. Either it's just the average, or a hint: abandon hope all ye who order this.
If you're into experimenting, you can try various wood combinations. Red oak gives the pleasant smoky smell we love. But there are also white oak, pecan, hickory, cherry or maple logs. You can order two or three of them and try various combinations to find your perfectly balanced flavor.
This sort of wood, though, may not be the perfect option if you want your oven to work constantly for a long period. You'll just end up spending too many of these logs. Combining 8-inch and 16-inch logs of the same wood may help here as well.
---
PROS:
Large pack;
Perfect size for most ovens;
No chemicals or pests;
Pleasant flavor;
Kiln dried;
Makes a perfect base for combining various woods for the best smoke.
CONS:
No exact weight specified;
The pack may be too big if you're rarely a host.
---
As for its pricing, it's quite above the average. On the other hand, its premium feel may be worth some extra bucks.
5. Weber Cherry Wood Chunks: Flavor it Up!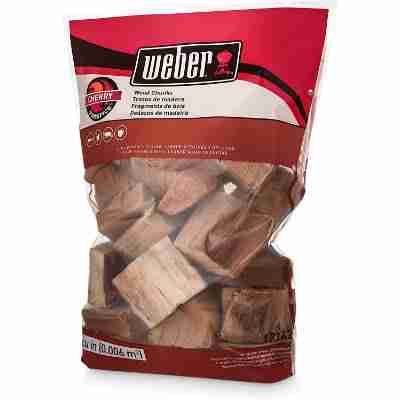 And, finally, this one by Weber, a British company that not only makes wood and other fire cooking accessories, but also supports the open-air lifestyle. It offers pizza and barbecue accessories, expendables, and even merchandise. Weber's cherry wood chips are perfect for any outdoor party. The chips are made of 100% natural cherry wood and have a unique flavor that will enhance any grilled food. With Weber's cherry wood chips, you can enjoy the great taste of grilled food without having to worry about the hassle of clean up.
I have mentioned cherry wood as an option above, and here it is. Being a fruit tree, cherry provides quite a pleasant sweet flavor that can combine greatly with smoky woods like hickory or oak. These chunks are a good addition to bigger ones, but if you wish, you can cook your pizza with only these, if you don't mind spending more. The heat will be softer than that of oak. But tastes differ: maybe you prefer a softer base and rawer meat and vegetables rather than burned down.
The pack includes well packed chunks with a label describing its contents in various languages. It's necessary, because it may contain apple, hickory, mesquite or pecan as well. The label is great for those unable to tell the wood by its looks.
---
PROS:
Easy to ignite;
Sweet flavor;
Provide less heat for tender cooking;
The weight is quite exact;
The vendor is famous for its quality products.
CONS:
The pack is rather small;
Need bigger chunks unless you're ready to spend a lot of these.
---
Its price seems low but only until you notice that the pack only contains 4 lbs of wood. On the other hand, if you use your oven occasionally or want to provide some wood for your friends' one at a party, it's quite an option.
Buyer's guide and FAQ on Wood to Cook Pizza On
That's how to choose the best wood for pizza oven in general.
Hardwoods are better than softwood. They provide more heat and less trouble. These kinds are heavier to carry, though.
Size matters. The smaller the sliver, the faster it ignites and the quicker it burns out. But only thick long logs will burn long enough and give great embers. Finally, you'll have to use both small and big ones.
No charcoals. Seductive as it sounds, it will produce too much carbon monoxide and too much heat as well. There are safer ways to overcook your pizza.
Seasoned woods are way better than fresh ones. A well-seasoned piece should have cracks and get darker at its ends. Most of those described above comply to this.
It's just the basics. You will learn more as you do your own exploration.
What not to use as firewood?
There are sorts of wood that spread its intolerable smell and make the cooking inedible. First of all, it's conifers, then some other species. But if you're just buying premade logs and chips, you won't make a bad mistake.

Does moisture content affect wood-fired cooking?
Yes, it generally does, but it just takes a bit more wood to overcome it. If you don't spare a log, moisture is nothing terrible.

How much wood for a pizza oven should one use?
It depends. In general, you need to load it up until it's full. But then again; watch the pizza cooked and make your conclusion. No matter how well cooked you want it, don't spare wood.

What kind of wood for pizza oven gives the best flavor?
All the woods mentioned above are flavored. It seems logical that if you use meat and vegetables, you better opt for oak, hickory and other non-fruit species. If you're a Hawaiian pizza type or like more fruits and sweets in everything, you may get better results with cherry, apple, or maple. But experiments will often pay too.

You Deserve the Best Pizza, Don't You?
They say you need a good guitar to learn playing, a good canvas and colors to learn painting, and so on. The same goes to pizza cooking: get the best you can, from ingredients to woods. Hope you'll enjoy your tasty pizza, a genuine product of your own hands!
Which of the woods above have you tried? Satisfied with results? Maybe you know other brands worth any attention? Or a trick or two to make better use of these? Drop a comment if you have. I'll appreciate that almost as much as a good piece of Sicilian. Hope my readers do too, so thanks in advance!