In 2019 Gemelli invaded professional oven reviews (it was mentioned in NBC News, CBS the Talk Show, CNN, AOL lifestyle, etc). This twin oven has attracted attention since its first presentation as a compact kitchen optimizer. It makes 12 inches pizza in approximately 15 minutes thanks to heat between 400-450°F. As far as this device has 8 functions, I want to focus not only on a Gemelli pizza oven review but also present you all options of the countertop convection oven. Knowing all its abilities, you will understand why I advise it to non-professionals and wannabe cooks as well as to experienced pizza makers.
The Gemelli pizza oven is a versatile and durable countertop oven that is perfect for any kitchen. The oven bakes, broils, roasts, spit-roasts, defrosts, warms and slow cooks, making it a versatile cooking tool. The oven also features a removable tray for easy cleaning. The Gemelli pizza oven is a great addition to any kitchen, and the motto "passion for food" perfectly describes the versatile and durable cooking tool. I hope you will find my review helpful!
Full Gemelli Twin Oven Review

What's in the Box?
The delivery kit includes the twin oven corpus, a 3-wire cord having a grounded plug, instruction and removable components for cooking. To make things clearer, I decided to categorize parts and accessories according to their usage with an upper or lower oven.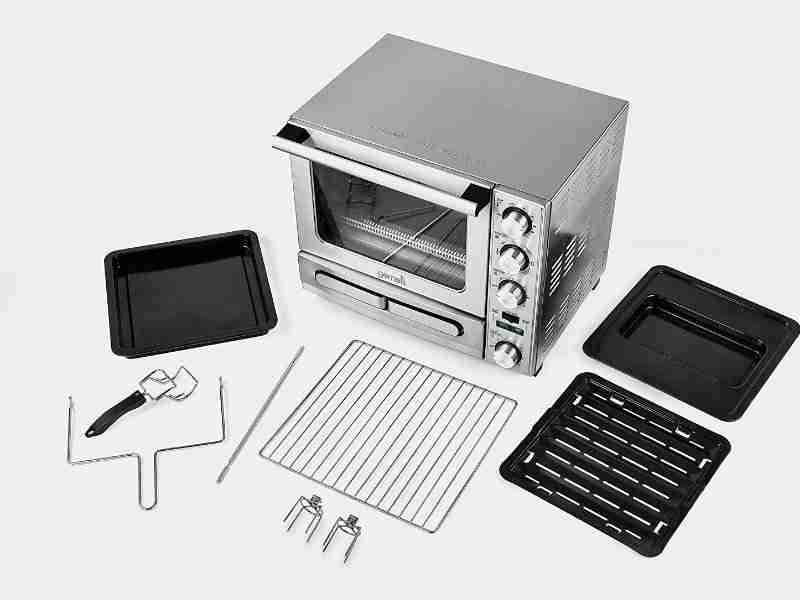 Upper oven components:
A removable chrome rotisserie spit rod. This slow-turning spit provides natural basting of meats. It can hold a 5.5 lbs of chicken at once.
When it is time to take out the meal, use a rotisserie wire handle that is included.
An easy-clean universal rotisserie-bake drip pan. It is necessary to use the drip pan with a rotisserie spit rod. The waterproof pan holds the oil drops from the heating element. This pan with a small pool in the middle is like your personal safety officer. Because even the smallest oil drop may cause a fire while the oven is working.
A commercial-grade fork set. It includes a 4-prong forks set. Forks help to stabilize food and hold it tightly on the spit rod.
A chrome grill rack. This easy-to-clean Chrome Wire Grill Rack can be put in 3 different heights. The position depends on the expected cooking results for your dish.
A rack removal tool. Use the pan handle to protect your hand from the burn, but still use it in special mittens.
An easy-clean enamel bake pan. This universal drip-bake pan can be used both for cooking food and catching juice that drips during cooking.
An easy-clean broil grill. It is perfect for baking all kinds of meat. It also prevents fat and grease from splashing.
A galvanized slide-out crumb tray. It is designed to collect unwanted fats and protect the heating lamps from moisture.
Lower oven components:
A removable pizza drawer. 4.33 inches high drawer fits a 12 inches pizza, or quesadillas, or 9-slices of bread. It also can bake fish, beefsteak, chicken wings, french fries, and more.
A galvanized pull-out crumb tray. It is placed under the lower oven drawer to protect the table surface from dirt and hot small food coals.
Also, the kit includes a well-structured instruction manual with a 2-year warranty. Mind that you need to register the Gemelli twin oven in a consumer support center. It is possible to register the device through an official website, by mail or email.
I was pleasantly surprised when I found in the manual detailed roasting, broiling and rotisserie charts, with preferable weight, time and temperature.
Design and Features
A refined, minimalist design will suit almost any kitchen. It doesn't have ornaments or bright colors on a surface. Nevertheless, the oven attracts attention with a stylish combination of a silver corpus, a stone-gray interior part, glossy knobs with blue illumination.
The corpus is made of straight stainless steel, which is easy to clean with a dust cloth.
The oven is divided into 3 parts: upper oven, lower oven and control panel.
The upper oven has a safety glass door with a cylindrical handle along the upper side of it. It is made of tempered glass that is more resistant to breakage. You can spend all day in front of the oven's door, just watching the magic of preparation. There is a special lamp inside, that illuminates the cooking process and works together with heating elements. All heating elements are hidden under the scratch-resistant coating.
The lower oven is exactly under the upper part. It has a collapsible handle. The handle is hidden in a spheroid part that is framed with a black line and divided into two parts. To form the handle, open both parts and connect them in the middle. It is a comfortable decision that follows the minimalistic style of the oven.
The control panel is formed of comfortable-in-hand knobs and a switch button with a blue light indicator. Each knob has readable inscriptions for explaining its options.
The first from above is a temperature knob that is marked with an image of a thermometer. A measuring system is in Farenheit from 150 to 450 degrees. Every knob has a scratched arrow to set the needed option.
The second knob is for function setting. There is a fan image next to it. The functions are written around the knob.
The third and fourth are time knobs that are used for turning on ovens for the distinguished time. One scale mark on the upper oven knob equals 5 minutes (maximum 120 minutes). On the lower oven turner, one mark stands for one minute (maximum 30 minutes).
Also, there is a black switch button for turning one of the ovens. The pixilated light indicator shows which oven is ready for work – the main or the lower one.
When you open the upper oven, you will find another small inclusionary feature. Written instructions near the flanges for a rack position to help you choose the proper one, e.g. "Broil" is written next to the upper rack position, thus, if you want to broil small cuts of meat, fish or veggies, take the advice and put the wire rack on the upper flanges.
Specifications
I find this oven pretty compact. Its dimensions are 18.82″L x 16.14″W x 15.89″H. So, it takes only 0.9 cu ft. of a kitchen.
If you can't stay in one place for a long time, the weight of this oven will please you. It weighs approximately 24 lbs – pretty movable.
Unfortunately, it is impossible to use both ovens simultaneously in an electric twin oven, due to the design features and fire safety.
The Gemelli consumes, as much as an ordinary microwave oven, 1500 watts. So it may be used daily without extra worry about electricity bills.
A heating system consists of 5 elements: 1 infrared and 4 quartz. All heating elements are covered under PTFE/PFOA free coating.
The maximum temperature is 450°F in both ovens. Nevertheless, such heat warms up the corpus of the oven. You need to keep at least four inches of space on all sides of the oven for air circulation.
How to Use Gemelli Twin Oven? The usage of the oven is very simple thanks to an understandable control panel.
First of all, put the plug into an outlet and choose what you want to cook.
If you want to make a Margherita pizza (Lower Oven Usage):
Push the switch to the right to turn on the lower oven.
Open the retractable handles on the drawer.
Pull out the drawer.
Put the unprepared pizza on the food platform.
Push the drawer back into the oven.
Set time on the lowest time knob that is particularly for the lower oven.
Set the minimum time that is mentioned in a recipe.
Unplug from the outlet after cooking.
After turning the oven on, do not forget to put on temperature resistant mittens to protect yourself from burns.
Keep in mind that the Gemelli pizza oven has a fixed temperature of around 450°F. It is impossible to cook in both ovens simultaneously, but, due to the construction, the temperature in the upper part rises up to 250°F. You can heat or defrost food while baking.
When you use the Gemelli for the first time, let it turn on 15 minutes before cooking. During the first usage, you may notice smoke and feel a strange smell. Just leave the Gemelli turned on for 15 minutes before cooking. Don't worry. It is caused by a protective substance that's applied in the factory. It is harmless.
---
PROS:
Easy to use.

Easy to clean.

Multifunctioning.

On 30% quicker than standard conventional ovens.

Intuitive control system.

Doesn't need preheating.

Quickly cools after cooking.

May be used as a commercial pizza maker.

Has a 2-year product warranty.

Affordable price.
CONS:
Heats while cooking. Don't put anything on the top, and don't touch external parts bare hand.
---
The Best Electric Twin Oven
The Gemelli is the best convection oven with pizza drawer. You may make a pizza, cook french fries, bake an apple cake and invite your friends to a home party. Also, you may roast cornish hens for a romantic supper or cook any meal that you can imagine. It is a perfect helper for a 4-6 person family and a great sous-chef for a pizza-maker. Cleaning doesn't require extra effort or expensive chemicals; all you need is warm, sudsy water and a sponge. Moreover, the oven won't occupy too much of your kitchen space. Thanks to its dimensions and capacity, you will have just enough space for practicing in cooking art.
I often advise this oven as a perfect present for parents or relatives. Because, when you want to show your love and care for someone with a practical gift, you may be confident that everyone will find the favorite technique of cooking in functions of this convection oven. It is also a must-have tool in a holiday house, cottage, any place where you gather together with your family and friends.
Speaking about presents, if you had a chance, to whom would you like to present the Gemelli Twin Oven? Have you ever made a pizza in the oven for a party? Let's chat in the comments section below!