Each way of baking pizzas has its own perks and downsides: authentic woodfired and convection ovens, multicook, frying pans… Because generally speaking, a true and honest pizza should meet certain criteria:
Crust. Thin and crispy, but not burnt.
Topping. Can't be undercooked, especially in the center.
Aroma. This mouthwatering smell of melted cheese, vegetables, sauce and meat should permeate the entire pie. (And your kitchen).
An oven is perfect for that! But not everyone can afford a legit fancy pizza oven made of San Marco bricks and fueled with firewood collected in Puglia's November forest.
So, instead, you could stick to a portable pizza maker. It's a clever little device that provides a wonderful cooking experience, saves time, and meets the core pizza-making standards.
In this countertop pizza oven review, I will give you a complete insight on how your Italian culinary could benefit from this appliance. And today we have MasterChef pizza maker under the microscope. So, let's investigate!
Masterchef Pizza Maker Review — A Portable Pizza Chef?
What's in the box?
Let's see what's inside the package. First, we get the MasterChef pizza oven itself — an 8-pound compact gadget. Then there's a user's manual with basic info: installation, cooking recommendations, precautionary measures, maintenance, etc.
Frankly speaking, installing this home pizza maker is a no-brainer. Simply place it on the kitchen's countertop. Then plug it into the 120 AC output. I also recommend you wash its inner part with dish soap before usage. (Scrapping it with a sponge and a bit of baking soda is also okay).
The pizza maker is already assembled. So, you're liberated from the chore of "hammering it together." Sadly, no bonus spatula or pizza cutter is featured in the package. You won't find a precipice brochure either. So, I suggest you bookmark a few YouTube pizza tutorials in advance.
Design and features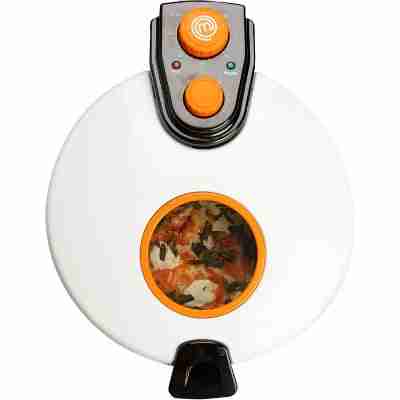 The portable pizza oven itself is composed of two parts: the cooking section and the top lid. The lid covers the cooking section pretty tight thanks to the clutch. So, the heat is securely preserved inside the appliance — it allows a deep, multi-vector pizza cooking. As a result, it takes less time to bake the Sicilian pie, plus it gets extra crispiness and juiciness.
However, the sides of the lid are perforated. That means that the heat excess is safely ventilated. This allows your delicious masterpiece to "breathe" more. It also serves as insurance against the dough getting those unappetizing black burns.
On top of the device, we have two orange knobs. The bigger one is responsible for setting the time. Twist it to set the desirable cooking limit — with up to 30 minutes. If you think that's not enough, don't forget that it's just a 12-inch pizza we're talking about. About 6 minutes is enough to have it cooked.
The smaller knob allows controlling the heat level. There are 3 levels in total. So, you can experiment with other dishes like quesadillas and calzone. Especially calzone — as you know, this variation of pizza from Naples must be fully wrapped with dough. So, maybe not the fastest pizza maker, MasterChef is still impressive.
A little nuance I like about the device is its top window. It allows monitoring what's going on with your pastry. Sometimes, your calculations may be a tad wrong. So, this feature helps prevent overcooking and overdrying the topping. It's a fat bonus if you're a fan of a Hawaiian pizza recipe.
Instead of a pizza stone, here we have a rotating plate. So, it's classified as a rotating pizza maker. Its metaly body is covered with a smooth layer of nonstick glaze. As for me, I haven't experienced a single issue with this thingy when extracting a pizza.
Another plus of this plate/stone "hybrid" is that it's removable. So when baking is done, you can excavate the plate and wash it under the tap. An elegant, time-saving solution.
Though it's not a quesadilla maker review, I'm sure that MasterChef can replace the classic griddle they use in Mexico. As a result, you can make a heavenly quesadilla and other similar dishes: Quesaburger, Berenjena Parm, Conquisadilla, French Quiché with roasted tomatoes, and Parmesan, etc.
You can also do a bit of pastry magic. MasterChef's specs show that it can handle ricotta cookies, pignolis, zuccherini di verno, mustazolla, English hobnobs, Nutella snickerdoodles, and other thigh-fattening goodness. Just remember that you're limited to a 12" working area if you decide to experiment with an exotic cookie shape.
Specifications
So, which superpowers does the MasterChef possess? Here's what I found in my Masterchef pizza maker review.
Temperature
I haven't tried its maximum heat capacity, to be honest. But I assume its max temperature is somewhere near 410° Fahrenheit. Considering that it handles 12-inch frozen and 11-inch hand-tossed pizzas, you will finish the job fairly quickly. But also watch out for scorches.
Size
With 16x16x9 inches and 8-pound weight, MasterChef pizza maker doesn't need much of your countertop space. Besides, it's compact and portable. So, should a kitchen rearranging take place at some point, this little guy won't stand in your way.
Voltage
As an electric appliance, MasterChef is compatible with the standard 120-Volt output. But you're not limited just to that voltage. It also works well with 110 and 220 Volts.
Material
The primary material for our little chef's body is metal. Particularly, it feels like some aluminum alloy. Clutch and knobs are plastic. So, I recommend watching out for the clutch and not shutting the lid too energetically.
Purpose
It handles all pizzas, as long as they fit the 12-inch plate. For example, it takes minutes to unfreeze Totino's, Amy's 4 Cheese, Freshetta, DiGiorno, and other frozen brands. Even Hot Pockets, if you please. But there's more than just pizza cooking. MasterChef is also a calzone maker, mini-pastry oven, waffle machine, etc. An amazing versatility.
How to use MasterChef pizza maker
One of the reasons why a pizza-lover should consider such a device is its ease of use. MasterChef is a friendly culinarian, and making a pizza with it takes just a few simple steps.
Here's what you need to do:
Safety always first
Look inside and make sure there are no spatulas, scrapers, or forks inside the cooker. A kitchen can be a chaotic place: anything may end up inside the pizza maker. And having alien metal objects in the appliance while cooking is an absolute no-no.
Preheating
Preheating is an important step. It's like an overture to your symphony of yumminess. Preheated pizza maker emulates the actual firewood oven. To an extent, of course. As the heat builds up, you will gain two awesome advantages from it:
The dough will be soft and saturated with warmth.
The cooking will take less time.
Usually, it takes the cooker about 5-6- minutes to finish preheating. Anyway, the Heat indicator on top of the lid will turn off, letting you know that it's time to immerse the pie into the oven's Inferno.
Enter the Pizza
Now it's time to lay your pizza on the stone. I suggest you put the dough first and the topping last. You can add the finished pizza composition as well, of course. But then you'll have to lay it as carefully as you put a baby in the crib.
Plus, you might overdo the topping. And the topping level can never be higher than the top-heating coil. Otherwise, your delicious Gorgonzola, anchovy, artichokes, and other topping parts may get burnt.
While sliding the pizza off the paddle to the stone, be super careful. Preheating makes the MasterChef's interior extremely hot. So, no touching, just watching.
Remember!
Never put an unfrozen pizza inside the maker. Not only will it take ages for the pie to be done, but also the crust and topping will be semi-raw — an instant yikes! for your taste buds and digestive system. Let the frozen crust defrost first.

Cooking time
Now, when the pie is inside, close the lid. What you need to do is to set the time and the heat level. They depend on what you're baking at the moment. But for most pizzas, heat level 2,5 is optimum.
As for the timer, you can safely go with 4-5 minutes. But every pizza — both frozen and homemade — has unique stats. You should take into account crust thickness and the amount of topping. Especially it's true regarding calzone with its puffy crust.
So, I recommend you check how the pizza's doing every 2-3 minutes. Open the lid, take a fork and gently poke the crust with it to check the condition. If pizza's not ready, just close the lid and continue baking.
More pizzas!
Once your debut pizza is ready, you can insert the next one. But first, turn the heat to 1,5. Then begin preparing the second pizza for its MasterChef adventure. Once it's inside, turn the heat back to the previous 2,5 heat level.
Basically, this way, you can bake a whole armada of pizzas enough for a party or a dinner with guests. If no further pizzas are planned for today, simply turn off the device.
Washing the rotating plate is easy. But you can also let it generate some marks — a golden rule of pizza-making craft says that they give more flavor to the pies! Just don't let them build up too much excess. Scrape a layer or two off the stone from time to time.
---
PROS:
4 heat levels;

Compact size;

Affordable price;

Lid window for monitoring;

Takes minutes to bake a pizza.
CONS:
Certain parts are plastic;

Baking area is limited to just 12 inches.
---
Conclusion
That sums up my review of an electric pizza oven with stone. All in all, I'm pleased with how MasterChef handles pizzas. This appliance has a sturdy metal body and a plastic clutch with a tight grip.
Four Heat levels are more than enough to bake a 12-inch pie, be it a traditional pizza, its Neapolitan cousin calzone, or a Mexican quesadilla with every stuffing imaginable.
I'm also pleased with the Chef's versatility. It can handle so many types of pastry, even giant English cookies, and waffles. You can also improvise a delicious pumpkin or a sweet potato pie — just stick to the gadget's radius.
And of course, I like that the final result tastes good. MasterChef pizza maker is a great budget substitute for a full-scale oven. Its heat distributing technology makes the dough crispy, but never too tough to chew. Topping gets enough attention too: I haven't run into any underbaked patches yet.
So, if you're enamored with the delicious Italian pie, I highly recommend MasterChief as a practical, affordable, and space-economizing solution. So, which way do you prefer making pizzas? Have you tried any portable pizza makers yet? Let me know in the comments!