A countertop oven is a compact analog of a full-fledged pizza oven. It is a perfect choice for small restaurants, luncheonettes, and house usage. If you plan to add pizza to your menu, or you're just a fan of a tasty Italian meal, you've come to the right place. Describing the best commercial countertop pizza ovens in the reviews here, I'm going to give you some tips on how to choose and buy a good mini countertop pizza cooker.
The demand for countertop pizza ovens has risen over the past several years. And it's quite expectable, because they are functional, convenient, and do not take up much space. Also, since the world lives through a global pandemic, more people manage to cook their favorite food at home, and this contributes to tabletop pizza ovens' popularity as well.
A countertop pizza oven is usually equipped with a simple design combined accompanied by high functionality and has an affordable price. To enjoy using a mini pizza oven, you need to know which parameters you need to pay special attention to when choosing a particular model. The crucial one is energy consumption, and it directly depends on the dimensions of the countertop oven: the larger it is, the more the oven consumes energy to heat up to the required temperature. Among other things, you should pay attention to the coating of the inner surface of the oven, as it directly affects the service life of the device and ease of maintenance.
Top 8 Best Commercial Countertop Pizza Ovens to Consider
Considering all the variety of mini ovens, it is not so easy to decide which one you or your business needs. Indeed, there are a lot of good options among them, distinguished by both low price and decent quality. Here are my favorite picks of tabletop pizza ovens for any place. Make sure to check these reviews; I'm sure you'll find a perfect match for your needs.
back to menu ↑
1. Oster Digital Countertop Oven – Best Pizza Oven for Restaurants
A hunt for the best commercial pizza oven is a tough game, and every restaurant owner wants to get the best for their business. Here is when Oster Digital Countertop Oven comes to the rescue. It's an ultra operative, easy-to-use, and spacious pizza oven with a nice, stylish design. It's perfect for commercial and personal use. Oster mini pizza oven includes three most-needed kitchen options at once: an oven for baking pizzas, cooking meat and other dishes, a toaster, and a defroster. The body of the device is made of robust, corrosion-resistant stainless steel. You can easily remove dirt from the case with an ordinary damp cloth.
The design of the oven includes a panel with buttons to operate the device and a small digital display that helps to control the time of cooking. The heating elements are installed at the top and bottom of the appliance chamber, which helps to achieve an even heating and accurate cooking and baking of food. It can take two standard pizzas at a time, and you will get quickly-made, tasty meals with crispy sides. Moreover, the oven is safe, since the body of the device does not heat up. The package comes with 2 oven racks, a baking pan, and an integrated broiling rack.
All these features and accessories are available for a fairly low price for a good commercial countertop pizza oven.

---
---
back to menu ↑
2. Oster French Countertop Toaster Oven – Best Versatile Countertop Pizza Oven
This is one of the most powerful and worthy to mention devices on the list of the best mini ovens of 2021. The only thing why this oven hasn't made it to the first place on the list is because of its weight. However, it's a fairly good and reliable choice for both businesses and large families. It's quite spacious and fits two dishes at a time. The heating elements of the oven are placed on the top and below to provide heat and proper temperature inside.
The device is as safe as the previous option of the Oster oven and is made of stainless steel. The operating panel has several buttons for modes that include:
Toast;
Bake;
Broil;
Convection;
Defrost & dehydrate;
Warm;
Pizza.
A separate Pizza feature eases the process of cooking the meal. All you have to do is to put pizzas inside, push the button to set up the oven for a proper mode, and wait. It's helpful for restaurants and if you're having a pizza party at home. Another perk of the Oster French Countertop Toaster Oven is a 90-minute timer with a signal. The oven also has a two-door cover for more convenience. The package includes two racks and two baking pans.
This is an amazing option if you need to bake many pizzas quickly and easily.

---
---
back to menu ↑
3. Luby Large Oven – The Largest Countertop Pizza Maker
This is probably the largest mini oven in this rank of the best pizza ovens. However, for the capacity of 55 liters, the dimensions do not seem too bulky. It works like a standard oven with different combinations of heating of the upper and lower parts. This helps to control cooking speed and heat level easily. The oven is also equipped with a timer for your convenience. A french door makes the design look stylish and can complement any kitchen interior.
The oven is perfect for baking not only a large pizza but also a 20-pound turkey, a whole pan of cookies, making bread, and different meals for a big family or a restaurant with a large number of visitors. The Luby oven is made of genuine stainless steel. It's a rather durable and usable device that will ease your cooking routine whether you're a chef or an amateur in your home kitchen. The package includes one bake tray, one wire rack, and a tray handle. I'd recommend this countertop electric pizza oven for home usage rather than commercial since it fits only one pizza at a time. However, the choice is yours.

---
---
back to menu ↑
4. Commercial Chef Countertop Microwave – Best Countertop Pizza Cooker for Small Businesses
A very simple mini oven in terms of both design and functionality is a nice choice if you don't plan to have too many visitors. This Commercial Chef oven is an amazing deal for relatively small kitchens and places where food isn't the main tool of profit. It has a reheating option and different modes for cooking not only pizza but also vegetables, frozen food, and popcorn. In other words, it also acts as a microwave. It comes in two color options: black and black with stainless steel trim. This oven heats up quickly, and you can monitor the temperature using the digital display on the functional panel.
It's easy to use and clean, and the weight of the device allows you to move it effortlessly if needed.
However, many users note that during operation, the device heats up unevenly from different sides. This does not affect cooking, but you just need to remember not to grab onto the hot part. In conclusion, it's an option that is most suitable for the quick cooking of small pizzas or snacks, which is a great choice for small businesses.

---
---
back to menu ↑
5. F.BLUMLEIN Steam Countertop Oven – Premium Commercial Countertop Pizza Oven
Compared to other mini-ovens on the list, this device stands out for its design and cost. It looks like a compact replica of a conventional oven and works pretty much the same. The stove body is metal, and the inner coating is made of stainless steel. The functional kit of this countertop pizza oven includes 5 useful modes:
Food steamer;
Convection oven;
Bread maker;
Sterilizer;
Yogurt maker.
Moreover, it can also be set up for grill, fermentation, and up to more than 5 other modes that you can achieve by mixing temperatures and options on the panel. It's a multi-optional, high-performance oven for a professional kitchen. The door opens downwards, but thanks to the rubberized feet, the device stands securely even on slippery surfaces. The handle is protected from heating, and the only drawback found by users is the slight heating of the case. The package comes with a removable crumb tray, a deep baking sheet, and a metal grid.

---
---
back to menu ↑
6. AUG Countertop Steam Oven – Best Multifunctional Commercial Pizza Maker
It's a nice mini oven with a modern, stylish, minimalistic design that can fit different dishes and give you perfect culinary masterpieces easily. The AUG steam oven is suitable for preparing both simple dishes and creating unique meals. Like the previous option, this pizza oven has many functions to offer and can easily replace a stationary oven due to its performance and usability.
The design of the oven is simple and made in black color. The operation panel is located on the right side and consists of a digital display and several minimalistic buttons. You don't have to worry to get burned, since the door of the oven is made of high-quality heat-resistant glass. It also contributes to maintaining the proper temperature of cooking inside. The package comes with a stainless steel rack and a non-stick-coated baking sheet. If you combined this countertop pizza cooker with the previous one, I would say that the only difference here is the price.

---
---
back to menu ↑
7. Magic Chef Countertop Pizza Oven – Best Vintage Countertop Pizza Oven for Everyone
This mini-oven is made of metal and has a vintage design. It's the most simple and basic model of a countertop pizza oven, which can be useful wherever you take it. This option is very lightweight, has a straightforward design, and allows you to cook nice, crusty pizzas without much effort.
However, there are some drawbacks that you should take into account. The oven has no glass door, which makes it hard to control the process of baking; it is also suitable for making not more than 12" pizzas.
However, it could be a nice option for people who don't plan to use the oven too often, or it might be a nice solution for a solo pizza fan. The package comes with a grill rack and a handle for comfortable usage.

---
---
back to menu ↑
8. VBENLEM 110V Commercial Convection Oven – Best 4-Tier Countertop Electric Pizza Oven
This commercial pizza oven is versatile cooking equipment designed for preparing different types of meals. It's an absolute choice for use in restaurants, canteens, and chain and grocery stores. The electric convection oven allows you to cook with minimum use of oil, providing even heating of the product from all sides, regardless of its location in the oven. The body of the convection oven is made of high-quality stainless steel, which is characterized by high physical and chemical resistance, as well as the ability to withstand a short-term rise in temperature.
The convection oven has four tiers for quick and accurate pizza cooking. The door of the device is equipped with a sealing gasket, the cooking cabinet is equipped with tempered glass, which provides good thermal insulation and protects you from burns. In addition, the glass door and internal lighting allow you to clearly determine the degree of readiness of the baked product without opening the door, thereby maintaining the internal temperature regime.
This professional commercial pizza maker oven has a manual control panel with temperature controls and a timer. All the performed functions are indicated on the screen. The package comes with four racks. Keep in mind that this oven is an entirely professional device, and it also costs slightly more than an average pizza oven for commercial use.

---
---
back to menu ↑
FAQ About Best Commercial Countertop Pizza Ovens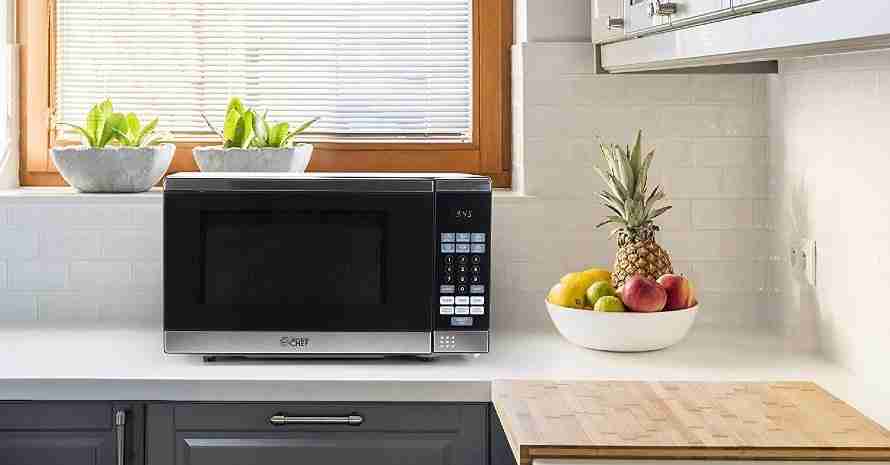 Today, there are many different models of mini-ovens available both in online and offline shops. Finding the best option for your specific needs is easy like cooking a tasty pizza in one of these ovens. If you still have questions after checking our 8 best countertop pizza oven reviews, this section might help you.
back to menu ↑
Can a countertop oven replace a regular oven?
A small pizza oven is a good replacement for a professional pizza oven in small kitchens. They can be either very simple, with one heating coil, or complex, with convection and grill.
back to menu ↑
What is the difference between a microwave and a countertop oven?
Let's consider the main criteria that help identify the difference between a microwave and an oven.
Purpose
A microwave oven is required to perform simpler operations with food: heating, defrosting, quick and easy cooking. The oven allows you to create real culinary masterpieces, in which a lot of ingredients can be used.
Cooking speed
In a microwave, the food heats at a much higher speed, since the effect on the ingredients is not only from their surface but throughout the entire cooking chamber. Therefore, such a device is more convenient for warming up. The food does not heat up immediately in the oven, and cooking with this device takes longer.
back to menu ↑
What can you cook in a countertop oven?
Usually, manufacturers put a special recipe book for mini-ovens in the boxes for some device models. It gives recommendations for the preparation of various dishes, indicating the necessary ingredients, temperature regime, and time. Most of the small pizza ovens for restaurants allow you to cook meat, fish, vegetables, and pastry.
back to menu ↑
The Best Countertop Pizza Oven Results
First of all, it is worth noting that all of the mini ovens listed above really correspond to the "best" epithet. However, most of them have equally high-quality and convenient counterparts with different functionality or set of features.
One way or another, the final choice is always yours. The purpose of this rating is to share information about the best and most popular tabletop pizza ovens, which are highly rated by professionals and home pizza makers.
Do you have any experience using a commercial countertop pizza oven? What did you like the most about it?