Outdoor cooking is seen as a leisurely activity that most families love to do on special occasions. However, for a real pizza lover, having a pizza oven in the outdoor kitchen has many advantages. The main reason for having your pizza oven in your backyard, patio, or terrace is the high temperatures required to cook the perfect pizza. These ovens can go to high temperatures and cook the perfect crust in a very short time.
For years, I have been blogging about pizza and pizza-making tools. I help people who love cooking figure out how to get value for their money in a market that has a variety of brands. Today, I will advise you on buying a pizza oven for your outdoor kitchen. I will help you see how an outdoor kitchen translates into huge energy and time savings. Hopefully, by the end of this review, you will know which pizza oven you will buy for your outdoor kitchen.
Each pizza oven in this review is uniquely suited for an outdoor kitchen. I highlight important factors, such as construction, fuel type, and heating capabilities. I also give some recommendations on whether the pizza oven is a good fit for non-professionals and wannabe cooks.
Amazon Bestseller
4 Pizza Ovens That Are Perfect for Every Outdoor Kitchen
When looking for a pizza oven for your outdoor kitchen, there are a few factors you should have in mind. The main one is efficiency, simply because you do not want to spend the entire day making one pizza. How fast the oven heats up and whether it heats up evenly is of great importance.
Your safety and the safety of others who use the oven in your outdoor kitchen are equally important. A heat-resistant exterior prevents accidental burns. The type of fuel, portability, and price are other considerations that determine the suitability of each of these four ovens.
1. Best Pizza Oven for Outdoor Kitchen – Kraiovim Brick Arch and Chimney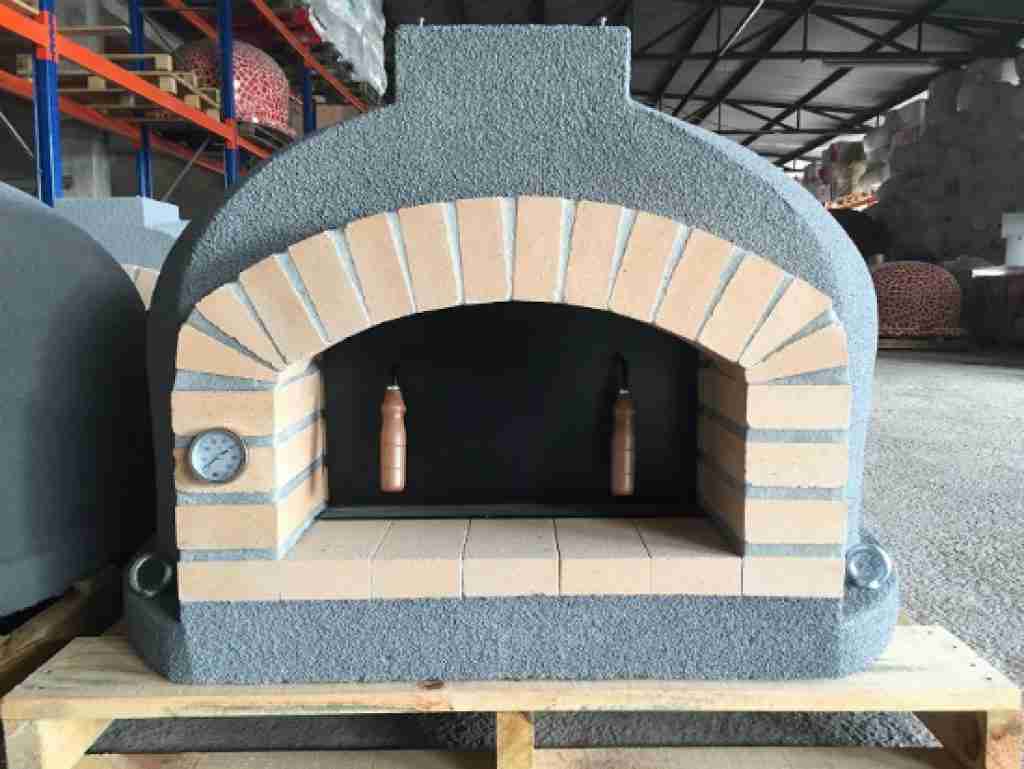 It is a Portuguese brand pizza oven that has one of the oldest designs and constructions. It has a brick arch on top of the dome for heat preservation and insulation. It also has a chimney that billows out smoke and keeps the fire going at the required temperature. The reason for the chimney is quite simple – the oven is fueled by wood. Wood is one of the best fuels to use for an outdoor kitchen-style pizza because of the smoky flavor it adds to the crust.
One of the best qualities of this pizza oven is how fast it heats up and its heat retention capacity. In less than three minutes, the oven heats up to 900℉, which is the perfect temperature to get a crisp crust and moist interior. For a first-timer, you should be careful not to burn your pizza. Do not walk away from this oven because you may come back to the burnt and undercooked dough. But with careful turning and heat regulation, you will have a pizza ready in less than 3 minutes.
Because of the brick arch, this oven also regulates heat quite well. Once your first pizza is ready, the wait time until you can put the second batch is quite short. It reheats fast and keeps you going for hours. You can make more than a dozen pizzas in a day with this oven. The brick arch also insulates the dome and prevents accidental burns. This feature makes the oven perfect for any outdoor kitchen, whether the owner is a professional cook or not.
The pizza oven has a built-in thermometer that is meant to help you detect when the temperature is too high. However, this thermometer is not user-friendly. Reading it can be misleading because it does not measure the temperatures in the exact spot where your pizza will be. My advice is always to buy a laser temperature gun that will give an accurate temperature and keep your pizza from burning.
For an outdoor kitchen, this oven is quite heavy and bulky. Putting it together is easy, but moving it is much harder. You will need more than an extra pair of hands to get it from one point to another. However, all its exterior materials are waterproof, which makes the oven resistant to the elements. You can leave it outside without worrying about rain or snow in the winter.
The price is on the higher side, compared to other portable outdoor kitchen pizza ovens. However, for a true pizza lover, this price is very much worth it. Considering the durability and the fast cooking feature of the oven, you can save on so much money while making restaurant-style pizzas at home.
---
PROS:
Preheats fast
Fast cooking
Easy to use
CONS:
Built-in thermometer not accurate
---
Before you make your first pizza, you have to cure the oven. To drive out all moisture from manufacturing, you should build a small fire and let it run every day for about a week. This fire should increase as time goes by so that the oven is dried out and ready for your first pizza. If you do not cure the oven well, it might crack due to the high temperature you will use to cook the pizza.
To use this oven in your outdoor kitchen, you should build a sizable fire at the center and burn the coals until they are red hot. When the inner dome of the oven turns white, move the coals to the back of the oven. Sweep the floor and insert your dough with toppings. Check on it every few minutes and turn it to cook all the sides evenly
As far as accessories go, you will need to buy the following;
Long-handle pizza peel – as I had mentioned earlier, this oven gets very hot. After preheating it, put your pizza in using a peel that has a long handle to prevent burns.
Pizza oven brush – you will need it to clean out the ash and burnt out coal from time to time.
Pizza spinners – to prevent your pizza from burning on one side and undercooking on the other, you will use this spinner to rotate the dough and let it cook evenly.
Temperature gun – because the built-in thermometer is not effective, you will need to buy a laser temp gun for accuracy.
2. Runner Up Pizza Oven Outdoor Kitchen – ilFornino Professional Series
If you are just as interested in appearance as you are in functionality, then this stainless steel pizza oven will be a perfect fit for your outdoor kitchen. It has a unique construction and a compact design that takes up very little space. It is also sturdy, with parts that are well fixed and rust-resistant. While using this oven, you are guaranteed that its materials will not be affected by the elements and that it will serve you for a very long time before showing signs of wear and tear.
This oven uses wood and heats up quite fast. Within twenty minutes, the internal temperature reaches 500℉ and goes to maximum soon after. Although it takes some time to reheat for a second batch of dough, it maintains its temperature throughout the cooking process and gives a crisp, evenly cooked crust. Although the exterior is cool to the touch at first, it gets very hot as the temperature rises and poses a risk of accidental burns.
The ease of setup and use is one of the winning qualities of this outdoor pizza oven. When you bring it home, all you have to do is get it out of the crate, put it on a cart, and use the supplied hardware to bolt the chimney on. The parts are rather heavy, so you will need at least four people to help you. The pizza oven kit comes with a metal peel that is long enough to load the pizzas without getting burnt. It also has a brush for cleaning the ash and debris from burning wood. These are great additions that reduce the extra cost of buying them separately.
Fast cooking is guaranteed when you have this oven in your outdoor kitchen. It can cook pizza in less than a minute. You will have to stand by and turn your pizza from time to time to make sure that it does not burn. However, at lower temperatures, your pizza can cook evenly in two minutes. The time difference is not that much, and lower temperatures allow you to step aside and mingle with family while your pizza cooks
Unlike brick ovens, this one does not need to be cured before use. To use it, simply light the firewood and keep it going for a while. After twenty minutes, it will be hot enough for the dough. Keep rotating the dough for it to cook evenly. At the right temperature, your pizza will be ready in less than three minutes.
For the value it offers, this outdoor kitchen oven is reasonably priced. You will have to factor in its durability and sturdy build to understand why it costs as much as it does. However, I can attest to the great pizzas that have come from this wood-fired oven. With an inbuilt thermometer that reads accurately, you cannot go wrong with this outdoor kitchen oven.
PROS:
Easy to set up
Heats up fast
Responsive inbuilt thermometer
CONS:
Exterior heats up too much
---
To help you get the most out of this outdoor kitchen oven, you need these accessories:
Thermal gloves – they will keep your hands from burning as you load and unload the pies from the oven
Wooden pizza peel – wooden peels work better than the metal peel that comes with this oven because the dough does not stick on them
Roasting pans or heavy-duty pots – if you want to cook bread, roast vegetables, or make any other dishes in this outdoor oven, you should buy appropriate utensils that can withstand the heat.
3. Cast Iron Outdoor Kitchen Pizza Oven – Aztec Allure
For many people, the outdoor kitchen is the heart of the home. It's a place where friends and family can gather to enjoy each other's company and some delicious food. If your outdoor kitchen is tight on space, then you need a compact oven that won't take up too much room. The cast iron pizza oven is a great option for small outdoor kitchens. It's constructed to minimize space, and it has a rustic, medieval look that will add some aesthetic appeal to your outdoor kitchen.
One of the great things about this outdoor kitchen oven is its simplicity. It's perfect for households that have beginner cooks or people who love pizza (or both!). The hearth underneath is where you put the firewood, and the iron plate in the middle is where the pizza goes. The dome protects the pizza from the elements, and there's even an additional cover for extra protection. If you want to roast some meats or vegetables, you can remove the pizza plate to expose the grill. This oven is a great way to enjoy outdoor cooking without all the hassle.
Apart from the cover, this pizza oven kit contains a pizza stone, peel, and assembly tools. The pizza stone is great for making evenly cooked pizza. I always advise beginners that are using this oven to put the dough in without toppings first so that the toppings do not burn. Once the dough is slightly cooked on both sides, use the peel to get it out and add toppings. The entire process should take about 2 – 3 minutes.
The heath has a lockable door for safety purposes. Although this oven gets very hot, it does not conduct heat on the outside. This feature completely minimizes the risk of burns when you are grilling in your outdoor kitchen and also makes it perfect for beginner pizza makers. Its ease of setup is another winning quality because the pizza oven comes assembled, and you only need to mount it on the stand. There is no need for curing it before use.
Sale
---
PROS:
Attractive exterior
Takes up little space
Easy to use
CONS:
Requires constant monitoring to ensure even cooking
---
You will have to buy the following accessories to complement this outdoor kitchen pizza oven:
Wood pizza peel – wooden peels work better than metal ones. Due to the cold temperature on metal peels, dough often gets stuck on them. A peel is necessary for putting the dough in the oven without burning yourself.
Insulated gloves – these will help you check firewood and handle the grill door without injury.
Ash shovel – it will help you clear out the hearth and ensure that the wood burns well without interference.
4. Wood Fire Outdoor Kitchen Pizza Oven – Maximus
This oven is another compact, well-built addition to an outdoor kitchen that any pizza lover would be lucky to have. It is well constructed, with one door that leads into the hearth and pizza shelf. The pizza is placed directly on the fire while on an iron cast shelf. The heat circulation inside this oven is impressive, as it can heat the bottom and top areas at almost the same rate.
It can heat up to 1000℉, which means fast cooking, but it can also mean a burnt pizza for a beginner. The key to the perfect crusty pizza is a grill insert that elevates the dough and allows it to cook evenly. You might also stay away from homemade dough and use store-bought so that you are sure about the mixing of ingredients. The last thing you need to be doing is experimenting with dough that is not well done.
The price of this outdoor kitchen oven, in comparison to others in this review, is quite fair. It heats up quite fast and uses little firewood for each pizza, so you are going to be saving a lot on fuel costs as well. Because it retains heat for long after use, you can grill some vegetables or meat after your pizza is done so that the heat does not go to waste. It has a sturdy shelf on which you can place crockpots and keep food warm as you entertain guests.
Moving this oven is not easy because of its weight. You will need help from more than two people to get it from one point to the next. On the bright side, it requires minimal setup, so you do not have to worry about how to fix it in your outdoor kitchen. Although it is not the easiest oven to use, you will get the hang of it after a few attempts. You will be cooking restaurant-style pizza in no time.
To use this oven, you should let it heat up in 30 minutes and then adjust the firewood to the back. The hot coal at the center will be enough to give you a crusty base and moist center without burning the toppings. Place in your pizza using a wooden peel and monitor it for over 3 minutes. If you notice the crust burning unevenly, you can rotate the pizza to help it cook evenly.
Authentic Pizza Ovens - Maximus Black Wood Fire Oven
AMAZING PORTABLE OUTDOOR PIZZA OVEN – The Maximus Black Wood Fire Oven is not only a patio pizza oven you can bring it to picnics tailgating or camping...
HANDMADE WOOD FIRED PIZZA OVEN – The Maximus Black is a beautifully designed Authentic Pizza Oven handmade in Portugal; bring the taste of Europe home...
SUPER-PRODUCTIVE PIZZA MAKER – The Maximus Black can cook 30 pizzas per hour with each one ready in 60-90 seconds and room for two 12" wood fire pizzas...
---
PROS:
Spreads heat evenly
Easy to set up
Takes up minimal space in the outdoor kitchen
CONS:
Heat might be too high for beginners to use
---
Along with this outdoor kitchen oven, you will need the following accessories:
Oven brush – buy one with natural bristles so that you can brush ashes to the side and load your next pizza without worrying about foreign particles in the food.
Ash shovel – if you cook many pizzas in a day, you will have a considerable amount of ash to get rid of. This shovel makes work easier.
Temperature gun – it is one of the safest ways to check whether your oven is heating properly.
Insulated gloves – they will keep you from burning while you load and unload your pizza from the oven.
Final Take on Outdoor Kitchen Ovens
Having friends and family over for some pizza is a great idea, especially when you have an oven in your outdoor kitchen. Such a pizza oven can reach higher temperatures in comparison to the indoor one. You will have a crusty pizza ready in less than 3 minutes, provided that you use the right temperature.
Although I always recommend the brick arch and chimney pizza oven as my number one choice for an outdoor kitchen, each of the other ovens I have reviewed is quite good. They are easy for beginners to set up and use. With a little guidance, you will be making restaurant-style pizza. The trick is to preheat the oven to the right temperature, rotate your pizza to let it cook evenly, and keep yourself safe from accidental burns.
Have you used any pizza oven mentioned in this review? What was your experience? Is there any good outdoor kitchen pizza oven gas that I should review? I would love to know what you think about these outdoor kitchen devices. Let me know in the comment section below.