Are you a pizza lover just like me? If your answer is yes, you will be interested in my today's article. I have been cooking pizza since childhood, and I'm always happy to try new ways of pizza making. That is why the pizza box oven by CuiZen attracted my attention at once. Sure, you can use a regular oven, frying pan, or something else to make pizza. But it is much more interesting to use the device that was designed specifically for preparing this dish. There are no unnecessary functions or features, only the ones you need for baking pizza.
And thanks to this it is fast. Moreover, you do not have to be a professional cook for this! You will get a fresh and tasty pizza much quicker than any delivery service would be able to bring it to you.
This cooker is the best choice for true pizza fans that prefer home-made food. We all know that this is a great option for those who want to control the quality of the ingredients. By making pizza at home you will be sure that all products are fresh and tasty, and perfect for your recipe. And it is always cheaper. You can add as much cheese or sauce as you like without paying for extras in your order.
By now you may know I'm not fond of ordering food, but I am a big fan of cooking it. That is why I decided to try this new cooker and share my experience with you. I hope it will be useful for you.
What You Should Know About Pizza Box Oven by CuiZen: My Review
In my CuiZen PIZ-4012 pizza box oven review, you will get detailed information about features, specifications, and instructions considering this device. I've tried it already, so I will retell the manufacturer description along with my personal opinion.
Pizza Oven in a Box: What's Inside?
Let's start with unboxing. The kit is pretty standard. When you open the box, on the top, you see the plastic bag with a tray and two brochures. Then the pizza box itself appears: white and shiny.This tray is round, and this is where you will place your frozen or raw pizza.
One of the brochures is a user manual. It contains all the required instructions for cooking pizza without risk to burn your bang and eyebrows. I strongly recommend reading it before using the oven, even after reading my detailed review. It is better to spend a few minutes repeating the rules than burn your fingers while opening the hot box.
The second brochure is a cookery book with over 40 pizza recipes. There are some interesting ones. But to me, it is unnecessary. There are some well-known recipes like Margherita or Pepperoni, and it is easy to make them. In other cases, I like to experiment with ingredients and their amount. But this book is in the package, so, sure, you can use it if you want.
And finally, the pizza cooker we all gathered here to talk about. This is a double-sided oven with two heating elements inside. We will talk about this baby further in the text. So, let's move on.
What's Special About Pizza Box Oven by CuiZen Design and Features?
The main outstanding feature of this pizza oven in a box is that it is made in the shape of a real cardboard pizza box. Sure, it is a little thicker and made from metal, but the design follows the original pizza box elements that make the oven a unique and original cooking device.
The box is neatly white, which adds some retro feel of kitchen appliances from the '50s. On the top there is a cute pic of a cook with a hot pizza, that seems too extra to me, but it's only my opinion. There are not many buttons, indicators, or controls. As I already mentioned, this is convenient as you always know how to start the cooking process. So we have 2 controls for time and temperature on one side and power and readiness indicator on the other side. The metallic handle completes the exterior.
NOTE:
The handle becomes hot during the baking, so make sure you put your mittens on before opening the box when the pizza is ready.

The box consists of 2 equal parts: top and bottom. When you open it, you see two heating elements on each side and a place for a pizza tray. You should put it on the bottom part fixing on the rotating base. This pan is 12-inch-sized and has a non-stick cover.
What Specifications Does This Pizza Oven in a Box Have?
Based on the information CuiZen pizza box manufacturer provides, this device has 1200-watts of power that is enough for cooking pepperoni perfectly. But before use, make sure you have a decent electricity supply. You can set the temperature up to 525 degrees Fahrenheit and timer up to 30 minutes, according to your cooking needs and preferences. The important feature here is that the oven does not require pre-heating, which also saves time.
You can make pizza up to 12-inch size. Rotating pan with a top and bottom heating elements ensure the heat will be distributed evenly. The cool-touch stainless handle is convenient while you close the oven at the start of cooking. But it gets hot during baking, so get your oven mittens to get pizza when ready.
The dimensions of the box are 16.75 x 13.4 x 4.75 inches. It weighs 8 pounds, which is light enough for moving it on the table, for example, to clean the surface under it, etc.
How to Use CuiZen Countertop Pizza Oven Maker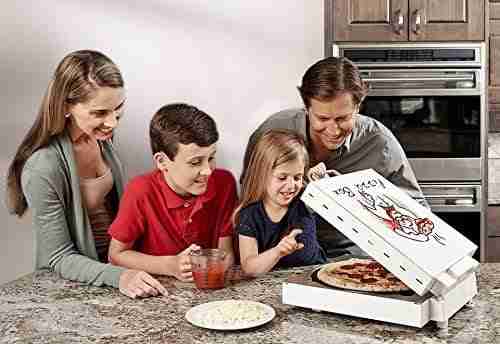 The usage of this oven is pretty intuitive. It is obvious how to turn the power on and where to put the raw product. However, it is important to provide all guidelines and safety cautions, considering cooking, cleaning, etc. Let's start with cooking.
As I already mentioned, this cooker does not require pre-heating. So as soon as the dough and all ingredients are ready, you can start. Pizza can be prepared in 4 steps:
Step 1. Put a raw or a frozen pizza on the pan. Make sure you remove any packaging from it.
Step 2. Put the pan with the pizza on the rotating center and close the lid. After this, you can plug the pox in.
Step 3. Set the required CuiZen pizza box oven cooking time and the temperature. Here are guidelines for these settings:
For frozen pizza – temperature setting "COOK". Depending on the size the cooking time differs in the following way: thin – 10-12 min, standard crust – 20-22 min, and 25-27 min for a think rising or a pan pizza;
For fresh raw pizza – "COOK" for 13-15 min for a standard thick crust.
However, you can adjust timing according to your taste.
NOTE:
The cooking will start only after the time and temperature are set and the lid is completely closed.

As soon as time is up, you will hear the signal, and the cooking will stop. The heating will be turned off automatically. Unplug the box before opening. Beware of touching the lid and the handle with bare hands, as these parts will be very hot.
Step 4. Take on your oven mittens and take the pan with a pizza out of the box. Use a wooden or plastic spatula for removing the pizza from a pan. Do not use metallic utensils.
Here are some additional operating instructions:
Place the appliance on a stable, flat surface.
Use the minimum temperature and time setting.
Do not leave the working oven without observation.
Do not let children operate with this appliance.
In case of ignition, unplug it and let it cool. In such cases, you should return the CuiZen countertop pizza oven maker to the Service Centre.
Keep the oven unplugged when you do not use it.
Sooner or later you will need to clean your favorite oven so here are some recommendations considering this aspect of use:
Clean the oven only when it is unplugged and completely cool.
Make sure that temperature and time controls are switched off.
Open the top and remove the pizza pan for separate cleaning. Wash it with soap and a soft cloth. Dry it completely before placing it back to the box.
Other parts of the oven you can clean with a damp cloth, and when it is clean, dry the surfaces up.
Do not place any elements of the box in water or other liquids, except the pan.
Maintain the oven clean and remove any residue inside and around the heating element.
Do not use any abrasive chemicals or fabric.
What Are the Pros And the Cons?
According to my experience and some other CuiZen pizza box oven reviews, I can name the following advantages and desadvantages of this kitchen appliance:
---
PROS:
It can fit in almost every kitchen. The small size makes it convenient for everyday use, even in a dorm.
It is simple in use, and all settings are understandable. You can adjust them for cooking pizzas in your favorite way.
It cooks 12-inch-sized pizzas that are the most suitable for convection ovens.
It can create a golden-brown crispy crust, which is almost impossible in regular convection ovens. At the same time, toppings remain juicy.
It can run on 110 V that is good for economical energy use.
Its range of time and temperature is perfect for baking pizzas.
It is easy to use and maintain.
CONS:
It is possible to cook 12-inch-sized (or less) pizzas. So if you want more, you need to prepare another pizza. However, according to my experience, 12 inches is enough for dinner for two or a movie night in solitude.
There is not enough space for making a thick stuffed‐crust pizza.
The metallic handle is heated during cooking, so as the lid. That is why you have to be careful and use mittens or an insulated handle while dealing with a working oven.
---
Apart from this, I can consider a pizza box oven safe and suitable for house or dorm use.
What's My Opinion?
It is always challenging to find a good quality and affordable kitchen appliance which will fit your student dorm room. But this oven will definitely meet your needs and expectations! It is a very specific device made for cooking pizzas. However, it has a lot of great features which makes it unique. For example, it will fit in every dorm room because of its compact size. In addition, the oven has a residential policy which means you can place it in your room to cook any time you want. I think that this piece of kitchen appliance is made for a true pizza fan, who will use it often to enjoy their favorite dish. But you should keep in mind that this is a very specific device without a multi-purpose feature. As for me, now I enjoy it every Friday when I have friends over, or arrange a movie time for myself.
I hope my CuiZen pizza oven review was informative enough for you to decide whether you want to try this device. Or maybe you have already bought one? If so, share your experience in comments! Others, who still consider buying the item, can share their favorite pizza recipe!