My name is Edward, and I am a big pizza fan. I have been so much into cooking ever since childhood. My struggle in finding the best pizza oven resulted in an advantage. I have explored, researched, and examined different pizza cooking tools, and I can assure you none of them works like the Presto 03430 pizza oven.
From the fast cooking speed to the modern-day design, the oven's features will make you fall in love with cooking. You no longer need to order pizza delivery as you can make one to perfection. This rotating pizza maker will cook a perfect pizza in no time. This tool is easy to use so that it can be of help to even beginner cooks.
I have based my Presto 03430 review on a first-hand experience using this oven. I have bought it at the beginning of this summer, and so far, the product has met my expectations. Check out the Presto 03430 pizza oven review below and learn more about this fine appliance. 
Presto Rotating Oven Review
– A Great Oven for Delicious Pizza
The review below is a must-read for any pizza fan looking for a reliable pizza maker. Here I take a look at the package of the oven, and it's design, cooking tips, good and bad points of the product. Let's get started! 
Unboxing
Presto 03430 Pizza Oven
At times, being a fan of something can limit your mind from exploring and discovering more things that could better your world. That is how my love for pizza shielded me from knowing how to bake a wide variety of other meals. Upon purchase of the Presto 03430 pizza oven, a friend came over and saw the recipe book that had accompanied the stove. I hadn't bothered to read it. It came to my surprise that all such dishes were highlighted in the book.
The oven is made for a wide variety of delicacies, and the recipe book guides you in making the very best of your selection. I have now improved my expertise not only in pizza baking but also in bread baking. The price of this oven is favorable to all. Unfortunately, the item doesn't come with the accessories needed for cooking, so I had to use the spatulas I have at home. Nevertheless, you get a remarkable pizza stone within the package.
Presto Rotating Pizza Oven
: A Unique Design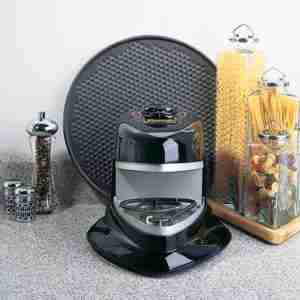 The stove is made uniquely. I have to admit that it is a one-of-a-kind appliance, and I was really curious how such an open pizza stove would bake a pizza. The oven contains a full-time rotating stone. I first wondered the reason for the same, but I came to figure out that the aim is to ensure an evenly cooked pizza. I was overwhelmed by the technology that allows avoiding an unpleasant experience with uncooked and burnt pizza. 
Specifics of Presto 03430
| Product Dimensions | Item Weight | Shipping Weight | Department |
| --- | --- | --- | --- |
| 15.8 x 14.5 x 10.3 inches | 7.6 pounds | 7.72 pounds | Kitchen & Dining |
First of all, I want to point out the heat regulating device of this pizza oven. There are two heating elements, placed on the top and bottom part of the stove. These regulators solve all problems with semi-cooked toppings or burnt crusts. Let us look at how these two work and how to use the oven the best way.
When you have a layered topping on your pizza, conventional stoves may fail to ensure a completely cooked meal as you like it. But with the Presto 03430 pizza oven, adjusting the top heating device will lead to more heat working on your topping while the bottom stays unharmed. 
When making crusts, I recommend adjusting more the bottom heating device to burn at higher degrees. You, therefore, make heat regulation depending on the part you want to get cooked thoroughly. A two-year warranty secures the item against any defect. 
I have used many convectional stoves, and preheating has always been an issue as they took over 15 minutes to reach the required degrees. What is more, pizza stones can break as a result of swift change between low to high temperatures. I have to affirm that this oven doesn't require preheating at all. You can start cooking as soon as you power it on. This significantly cuts short the time used to bake a pizza.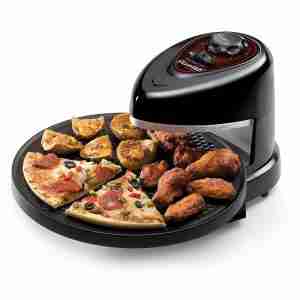 We have all been confronted by the problem of leaving our oven powered on as we await them to preheat and forget about it. You may have heard stories of people who left their food in the oven, and the time they came back, their meals were wholly burnt. This poses a significant risk in your life as the stove can explode or get damaged entirely. So, no preheating needed is a great advantage of this pizza oven as you can start baking with it right away.
The Presto 03430 pizza oven saves you from those sorts of risks. You can set the time you want the cooking to take, and after it has finished, the stove will turn off automatically. You can get the time needed to cook several dishes from the recipe book that is given in the package. I honestly do not see a reason why you shouldn't equip yourself with this great tool.  
The baking pan is detachable to ensure cleaning doesn't become a problem. In terms of size, the pizza oven is ideal for making small to medium pizzas. The pizza's baking pan is round-shaped with a diameter of 13.75 inches. The oven itself is 9.5 inches tall and deepens up to 17 inches. 
It is a surprise to me that the pizza oven is still so lightweight despite the high-quality materials used in making it. It weighs only 8 pounds. Portability is never an issue here. The stove can be used to bake a 7 to 12-inch pizza. 
The high watt power helps you to reach the maximum temperatures when using the item. Baking a pizza will only take close to 10 minutes, which is less than the time it takes a conventional stove to preheat. This will save you from substantial energy consumptions. 
The oven is powered by electricity. There are no complicated connections as appear with the gas-powered devices. It is only a plug-and-use cooking tool. The electricity cable is provided as part of the package. The cord is long enough to help you cook on a safe distance from the socket. 
A minimal amount of heat is produced during the process, and this makes the pizza maker ideal to use during the summer. It will not raise your house temperatures to unneeded levels. 
How to Use the
Presto Rotating Pizza Oven
I have prepared a detailed instruction on how to use this appliance to get the tastiest pizza ever. Check it out:
When using the pan for the first time, clean it in warm and soapy water. Rinse it to dry.

You need now to place your pizza maker on a leveled surface.

Set up the pan by slowly lowering it to fit in its allocated space. The pan is hooked on the lower side to hold on the rotating motor correctly. To check if the pan is well-placed, power on the device, and it should start rotating immediately. Repeat the same steps until the pan is well-positioned.

When baking, place your pizza on the surface of the pan or use additional boards if needed. For all other delicacies, refrain from using boards and evenly spread your dish on the pan.

Plug the device in and power it on.

Set the heat regulator to the required intensity.

Set your timer per the duration needed for the meal you are preparing. Seek help from the instruction guide and recipe book in case you are not aware of the required time.

In case the timer is off before cooking is complete, adjust the unit to the additional time. You can also set the timer off in case you see that the meal is ready before the time elapses.

When you are done with the cooking, remove the hot pan from the surface using an insulated holder and set it on a safe surface that is heat-resistant. It can be on a concrete floor or a specially designed pan holding spot.

Wait for the pan to cool before washing it.

Do not slice the pizza on the pan. Use some serving tray instead to avoid scratching the surface of the pan.
And here are my recommendations on cleaning and upkeep of this appliance:
Never leave the pan attached after cooking is completed.

Always unplug the oven from the power source after use as there is no power off button on the machine.

Clean it only after cooling down.

Use warm water to clean the pan off any residue or oil.

Do not soak the oven in water. It is electric-powered, and many cables, including the heating elements of the machine, might rust.
Presto 03430 Pizzazz Pizza Oven Instructions
Presto 03430 Pizzazz Pizza Oven Manual
Pizza Cooking Chart
The following times are for cooking 9- to 12-inch pizzas. The times are approximate. If cooking 7- or 8-inch pizzas, you may need to reduce the cooking times by 1 to 2 minutes. When the cheese is melted and bubbling, the pizza is done. At the end of the cooking time, if you would like a crispier crust, slide the switch to LOWER; if you would like the toppings more done, slide the switch to UPPER. Then reset the timer by turning it beyond "4" and then back to 1 or 2 minutes and cook until pizza is done to your satisfaction. To avoid overcooking, do not leave unit unattended.
TYPE OF PIZZA
ELEMENT SETTING
APPROXIMATE COOKING TIME**
FROZEN (9˝–12˝)
Regular Crust
DUAL
12–15 minutes
Rising Crust*
LOWER then
DUAL
10–12 minutes LOWER
10–12 minutes DUAL
Stuffed Crust
LOWER then
DUAL
7 minutes LOWER
12–15 minutes DUAL
Regular Crust,
extra topping(s)
DUAL then
UPPER
15 minutes DUAL,
3–4 minutes UPPER
FRESH* (9˝–12˝)
DUAL
11–13 minutes
*You may use baking wheel or tray, if provided.
**Cooking times will vary depending on household voltage. The higher the voltage, the shorter the cooking time; the lower the voltage, the longer the cooking time.
NOTE: When using the Pizzazz Plus rotating oven, the cooking times will generally be shorter than if cooking the pizza in a conventional oven. NEVER LEAVE UNIT UNATTENDED.
Sale
Presto 03430 Pizzazz Plus Rotating Oven, Black
Rotating tray turns continuously to assure even baking.
Top and bottom heating elements bake foods from both sides. Heating elements are separately controlled, allowing you to select top, bottom, or both...
Timer signals end of cooking time and automatically turns off heating elements.
Pros and Cons of
Presto 03430
It's time to talk about the advantages and drawbacks of this item. Here are the good points I have found about this pizza oven during my use:
---
PROS:
The pizza maker is ideal for cooking all sorts of delicacies. You can put anything you want on the rotating pan. I would advise against cooking extremely oily dishes as they might lead to the stove catching fire. 

The rotating pan ensures you get an evenly cooked pizza without having to turn it by yourself when cooking. 

The automated timer helps you save on the energy used. It also enables you to concentrate on other tasks when cooking as it goes off after the instructed time. The timer also goes off in the event the pizza maker overheats. 

Cooking is extremely fast as this electric-powered pizza maker is more powerful than a gas-powered oven.

The pan is detachable for simple cleaning and secure storage.

The oven's cost is affordable for all. 
CONS:
The oven comes as a disadvantage to those who love extremely hot pizzas. This is as a result of the low heat produced when cooking. It is also because of the way the oven is not enclosed. 

There is no power button on the device, and you need to set your timer accurately to make sure the pizza gets cooked and not burnt. 

It cannot be used for outdoor activities. 
---
I do not see many cons that would make you refrain from purchasing this Presto rotating pizza oven. I have been using this tool for two months as for now. The stove has an unlimited number of benefits that will outdo any con that is present. 
My Opinion on Presto Pizza Oven
This appliance is among the top-rated products on Amazon for a reason. I can affirm from a personal point of view and experience that this pizza oven will give you the services you have been looking for. You are assured of real value for every penny used on the item. At this cost, you get a high-quality tool that can prepare a tasty pizza in ten minutes only. 
The Presto rotating pizza oven is made up of high-quality materials, and the rotating and non-sticking pan is the best example of top-quality finishing deployed in the item manufacturing. You will not get any sorts of hotspots or uncooked parts on your pizza anymore. So, it is worth going ahead with the purchase of this pizza oven.
While I make my final remarks on the Breville pizza maker review, I would like to know if you have ever used any pizza baking oven. If yes, what was your experience with the product? Does the product you used outshine the benefits of this exceptional Presto rotating pizza oven? Share with me your experience with this or any other baking oven you have used and help me to educate more people on the same. I will leave the comment section open for any questions.